Key West Travel Guide
CORONAVIRUS INFORMATION FOR KEY WEST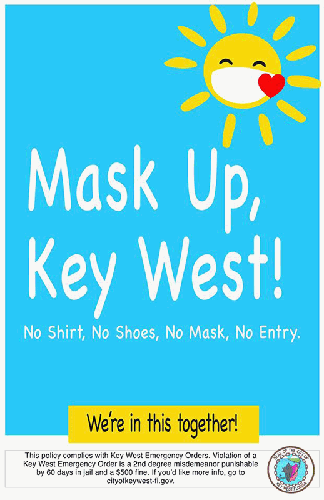 Key West & the Florida Keys have been trying to keep the COVID-19 pandemic from getting out of control on
the island by working together as a community and social distancing, wearing masks, cleaning high-touch surfaces, and limiting capacity. In an effort to keep you safe, and with the fact that Key West has very limited hospital resources, there are important new rules that must be followed:
Masks that cover the mouth and nose MUST be worn AT ALL TIMES WHILE AWAY FROM
YOUR RESIDENCE/LODGING, while inside any business, while outside regardless of your ability to maintain social distancing, while on public transportation, and while on-the-job. Anyone who does not wear a mask will not be permitted to enter a business and are subject to fines and penalties. If you cannot abide by this simple precaution, then do NOT visit the Florida Keys and Key West at this time.
International guests are not permitted to make reservations at this time.
Restaurants & bars are able open, but patrons must be seated. Masks are required while standing and moving about the restaurant or bar.
The Dry Tortugas seaplane has resumed operations and flights are now available to reserve
Major events are beginning to be scheduled. Key West Travel Guide will be updating its Key West Calendar of Events this week. Stay tuned for updates.

Thank you for your understanding co-operation, and support. Let's all work together. Stay well, safe, and sane.

Best Wishes from Key West
Key West, Florida

Laid back, free-spirited, artistic, quirky, and scenic, Key West is one of the most unique places in the United States. Known for its live-and-let-live attitude, tropical climate, and seemingly continuous happy hour, this tiny Florida Keys island has been welcoming visitors seeking a vacation from the normal for two centuries.
Since its earliest days, people have come to the end of the Florida Keys island chain to fish, write, carouse, and rejuvenate. From the famous, including Ernest Hemingway, John J Audubon, and Tennessee Williams – to infamous, Key West has always been a place where you can be yourself, find yourself, or re-invent yourself.
Key West Travel Guide is an extensive, up-to-date guide packed with local information and concierge advice.
Learn from the local experts about restaurants, hotels, nightlife, boat cruises, attractions, and other fun things to do in Key West.
Best Wishes from Key West,
-Gordon & Dave
This Week's Weather
Monday May 10, 2021 – Mostly Sunny; 15% chance of precipitation; 86° high/79° low; wind Southeast 13mph; 69% humidity
Tuesday May 11, 2021 – Mostly Sunny; 15% chance of precipitation; 86° high/80° low; wind East-southeast 9mph; 74% humidity
Wednesday May 12, 2021 – Partly Cloudy; 15% chance of precipitation; 86° high/79° low; wind Southeast 7mph; 74% humidity
Thursday May 13, 2021 – Partly Cloudy; 20% chance of precipitation; 86° high/79° low; wind East 8mph; 74% humidity
Friday May 14, 2021 – Mostly Cloudy; 25% chance of precipitation; 85° high/78° low; wind North-northeast 9mph; 73% humidity
Saturday May 15, 2021 – Partly Cloudy; 25% chance of precipitation; 84° high/78° low; wind North-northeast 11mph; 72% humidity
Sunday May 16, 2021 – Scattered Thunderstorms; 40% chance of precipitation; 84° high/78° low; wind East-northeast 16mph; 71% humidity
Monday May 17, 2021 – Scattered Thunderstorms; 40% chance of precipitation; 84° high/78° low; wind East 19mph; 71% humidity
Quick facts about Key West
Date first explored: 1521,
Ponce de Leon visits Dry Tortugas
Date as a U.S. territory: 1822
Size: 2 x 4 miles
Population: 24,909
Average hi/lo temperature, winter (F): 76°/66°
Average hi/lo temperature, summer (F): 89°/80°
Sunny or partly-sunny days per year: 259
Area code: 305
Zip code: 33040
Distance from Miami: 160 miles
Distance from Cuba: 90 miles
Geographic fact: Southernmost point in the U.S.
Official motto: "All people are equal members of One Human Family"
Recommendations for Fun Things to Do in Key West