Tethered by parachute to a boat, it's an exciting way to get a bird's-eye view of Key West and the ocean.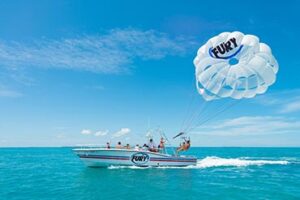 See the beauty of Key West on a thrilling parasailing adventure.
Anyone can parasail and no skill or training is necessary. You may fly as a group of 2 or 3 to take in the breathtaking views.
What to expect:
After the boat's mate secures you into a flight-safety harness, you'll slowly ascend to approximately 300-400 feet above the water. You'll be completely awed by the spectacular sights in every direction. After your 8 to 10 minute joy ride, you will have a gentle and dry landing back on the boat.
These parasail trips take up to 12 people.
Schedule:
Departs on the hour: 9am, 10am, 11am, 12pm, 1pm, 2pm, 3pm, 4:15pm, & 5:15pm
Cost:
$84.95 per person
For reservations and information: