Tethered by parachute to a slow moving boat, it's an exciting way to get a bird's-eye view of Key West and the ocean.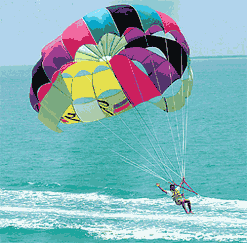 See the beauty of Key West on a thrilling parasailing adventure.
Anyone can parasail and no skill or training is necessary. You may go solo or team up and fly in tandem and take in the breathtaking views together.
What to expect:
After the boat's mate secures you into a flight-safety harness, you'll slowly ascend to approximately 600 feet. You'll be completely awed by the spectacular sights in every direction. After your 12 to 15 minute joy ride, you will have a gentle and dry landing back on the boat.
These parasail trips take up to 10 people.
Schedule:
Departs on the hour: 9am, 10am, 11am, 12pm, 1pm, 2pm, 3pm, 4pm, & 5pm
Cost:
$84.95 per person
For reservations and information: