Trips to America's most remote national park – aboard a high-speed ferry or sea plane
Approximately 70 miles west of Key West lies beautiful Dry Tortugas National Park and Ft. Jefferson. This remote part of the Florida Keys is accessible only by seaplanes and boats. There is no road that connects these islands to Key West.
Visitors are drawn to this spot by its fascinating history as well as its gorgeous beaches. The trip to the stark, yet stunning islands crosses incredibly clear waters where shipwrecks and sea life are usually visible. Divers, snorkelers and nature lovers flock to the area for its coral formations, loggerhead turtles, French angel fish and many rare birds.
The Spanish explorer Ponce de Leon first discovered this island chain in 1513 and called them Las Tortugas, meaning The Turtles, for the great number of sea turtles found there. The latter name, Dry Tortugas, was intended to warn seafarers that the islands contain no fresh water.
On Garden Key, the largest island in the group, you'll find historic Ft. Jefferson – once envisioned as the largest link in America's coastal defense system. Its original purpose was to control navigation into the vast Gulf of Mexico and protect the Atlantic-bound Mississippi River trade from piracy. Begun In 1846, it used 16 million bricks – making it the largest masonry structure in the Western Hemisphere – although it was never actually finished. You can travel to its remnants today in America's most remote and least visited national park.
With remarkable snorkeling, thousands of migratory birds, and endless ocean vistas, you will never forget the sense of wonder that comes from visiting a sight seen by only a lucky few.
Click below to learn about the Seaplane trips to the Dry Tortugas:
Seaplane to Fort Jefferson and the Dry Tortugas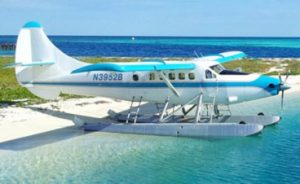 Fly from Key West airport, land on the ocean, park on the beach, and hop out onto the softest sand on this amazing trip.