Explore the unique eco-systems of the Florida Keys, including mangroves, seagreass, and coral reef.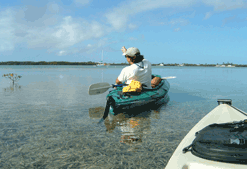 Eco-tourism in Key West is rapidly gaining in popularity – and for good reason! The Florida Keys Back Country is one of the premier wildlife preserves in North America. It consists of hundreds of islands scattered among the biologically rich waters of Florida Bay and the Gulf of Mexico. Most of these Keys are unspoiled, uninhabited islands, and are a haven for a wide array of wildlife including nesting sea turtles, bald eagles, and many different types of aquatic birds.
The eco-system of the Keys can be broken down into three main categories: Reef, Mangrove, and Seagrass Communities. Each one is complex and filled with a variety of interesting and adaptive creatures. The health of each part of the eco-system is intertwined with the others. Expect to see stingrays, small sharks, invertebrates, crustaceans, and many different varieties of fish. The guides on these trips take their work to heart and are happy to share their enthusiasm for the environment of Key West.
Eco-tours aim to show guests the fascinating and beautiful environment of the Keys. We highly recommend them.
Select from the links below to learn more about the different Key West eco-tours available.