Learn about local transportation issues, including cars, parking, bikes, taxis, scooters, bus service, and more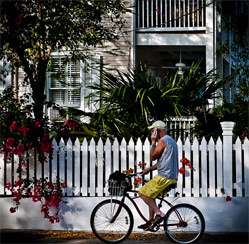 Wondering about getting around the island of Key West? Here you can learn about all the ways available.
First, know that the island of Key West is quite small: two miles wide by four miles long. If you decide to not have a car in Old Town, be assured that there are many ways to get around Key West, including: walking, bicycling, taxis, electric rental cars, mopeds, pedi-cabs, city buses, trolleys, and hotel shuttles.
Cars: In general, our suggestion for people flying into Key West and staying in Old Town is that a car is NOT necessary, and, more often than not, is an unnecessary expense and can be burden. If you are staying in New Town (the eastern side of the island), a car can be useful for getting around and may save you the high taxi rates from that zone, but parking in Old Town will still present challenges. If you are going to have a car in Key West, click here for more information about where to park your car, costs, and regulations.
IMPORTANT UPDATE FOR DRIVERS: The large re-construction project of North Roosevelt Blvd, one of Key West's main roads, is now complete! What had been a traffic snarl for two years is smooth road along Key West's northern coast.
Walking: Old Town is a small area, less than two miles by two miles. The island is mostly flat (the highest point of Old Town is 18 feet above sea level), and the neighborhoods are some of the most beautiful and charming in the nation. We highly recommend walking. It will allow you to see more, especially the historic homes and lush tropical foliage.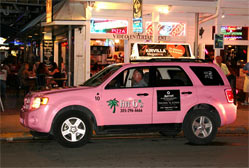 Taxis: Key West has taxi cab companies that service the entire island. Air-conditioned cars and vans are also available. If you need to transport your bicycle, request a cab with a bike rack. The dispatcher at the largest cab company can be reached at 305-296-6666. It can be difficult to hail one from the street; most are heading to a call from dispatch. Cabs are always lined up at the airport awaiting passenger arrivals. (Also available in the app stores is TaxiASAP, which lets you request a traditional licensed taxi via an app.)
Ride Sharing: UPDATE! Thanks to a change in Florida state law, ride share, is now legal in Key West; Uber and LYFT are both in operation. Visit the Android Play Store or the Apple App Store to download their necessary apps to your smartphone.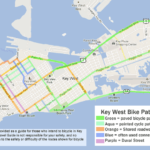 Bicycling: We highly recommend bicycling in Key West, especially the Old Town area. Locals love their one-speed beach-style bicycles, known as Conch Cruisers. There are plenty of bike rental places in Key West, and expect to pay $50 for a week's rental. One of our favorite bike rental companies in Key West is Island Bicycles, located at 929 Truman Avenue (you can call them at 305-292-9709). They have a decidedly funky, reggae vibe and a good selection of quality rentals.
Keep in mind that although Key West is bicycle friendly, you must exercise caution while riding and obey ALL traffic laws.

Bike lights are REQUIRED for riding at night.

If you need, you may ride on all sidewalks EXCEPT the Duval Street sidewalk.

Lock your bike to appropriate bike racks, or it may easily go missing.
Electric Cars: Once a novelty and now ubiquitous, the small electric car (sometimes referred to as an egg due to their shape), is a popular way to get the family around Key West. But know that they are subject to all the rules of the road that a car must abide, and parking is just as difficult. Electric cars come in a range of sizes and shapes, some able to carry six passengers.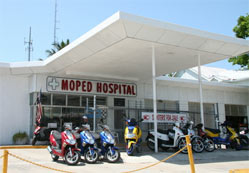 Mopeds: Our least recommended way to get around Key West is by moped. The locals make it look easy, but too many visitors have had their vacation ruined in a moped wreck. Since Florida does not have a helmet law, a simple accident can be catastrophic. Riding a moped or scooter in Key West is NOT for the inexperienced or faint of heart. Do NOT let someone pressure you into getting on a scooter if you are not comfortable and experienced. Key West is small enough that you can easily rent a bicycle or walk (or take the numerous other methods of getting around). And if you do insist on renting a moped or scooter, you MUST follow all rules of the road. DON'T honk the horn unless necessary (it is illegal, uncool, and drives the locals crazy), DON'T do a "wheelie" (again illegal and uncool), and drive carefully and defensively. You cannot imagine the horrors we have seen from scooter wrecks.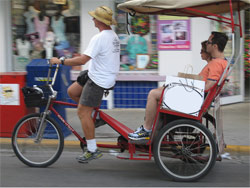 Pedi-cabs: These are bicycle powered rickshaws, and are seen slowly moving along Duval Street and the heavily traveled tourist corridors. They charge $1.50 per minute, and take 10-15 minutes to get to most Old Town locations. Locals often complain that they hold up the flow of traffic.
Buses, Public Transportation: Key West has bus service that can be useful for getting across island, or up the Florida Keys. Click here for bus fares, schedules, routes, and bus stop locations.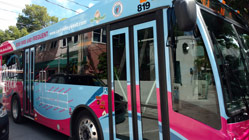 UPDATE! Duval Loop – We are excited to announce that the City of Key West now has a FREE bus to get around Old Town. The "Duval Loop" has a total of sixteen stops (on Whitehead, Simonton, Caroline, and Fleming Street) -providing easy access to Duval Street, the Historic Seaport, the Southernmost Point, and numerous other points of interest. This is an excellent way to get around the historic quarter. Look for the round, pink Duval Loop signs marking the stops.
Schedule: The Duval Loop buses run every 30 minutes, from 6am to 10am, and every 15 minutes from 10am – midnight. Click here for map of Duval Loop bus stops.
Trolley: There are now two trolley companies servicing Key West, and both offer multiple places to hop off and explore. Expect to pay $20 to $27 per day for a day pass, depending on which trolley you choose.
Hotel Shuttles: Some hotels offer free shuttle service to the historic district (Old Town), the airport, or even the beach. These are usually hotels located in the New Town section of the island. Here is a list of the hotels that offer this service: Marriott Beachside, Grand Key, Sheraton Suites (2001 S. Roosevelt Blvd), Best Western Key West Ambassador (3755 S. Roosevelt Blvd. (offers airport shuttle service), Crown Plaza (airport shuttle), Reach Resort (airport shuttle available for a fee), Casa Marina (airport shuttle available for a fee).