Whatever your taste, there is a nightlife scene in Key West that'll make you happy and let you have fun.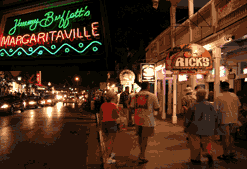 Voted among the top party towns in the United States, Key West is a favorite destination for many looking for fun nightlife.
One of the amazing things about Key West is that there really is something for everyone.
For example:
A fisherman? Yep, head over to the dockside bars and watering holes – like the Schooner Wharf Bar, or the Conch Republic Seafood Company, and you'll find plenty of Captains, mates, and their customers sharing tales of the high sea.
A mellow couple? Visit The Porch, Point Five (upstairs of 915), Virgilio's, Louie's Backyard, and Two Cents.
A spring breaker? Seek lower Duval Street, with its honkytonk bars – like Sloppy Joe's, Hog's Breath, Rick's, and Rum Runners.
A drag-queen-friendly disco queen? Head to one of the dance floors at a range of place, including Aqua, Ricks, Vigilio's, and Bourbon Street. And don't miss the cabaret act upstairs at the 801.
A rocker? Plenty of live music can be found at the Green Parrot, Hog's Breath, Schooner Wharf, Vigilio's, and Margaritaville.
You'll find it all while doing "The Duval Crawl", local-speak for wandering bar to bar, to-go cocktail cup in hand.