Key West is now number one in destination weddings.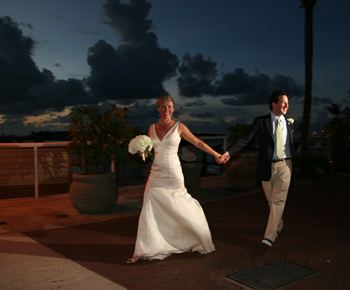 Could there be a better place to celebrate your big day than the fabulous Florida Keys? More and more couples have decided to forego the stress and expense of a big traditional ceremony and combine their exchange of vows with an unforgettable honeymoon in one location. Whether it's just the "two of you" or you've chosen to travel with a group of close friends and family, Key West Travel Guide can help choose the perfect place and a friendly and professional wedding planner to make it a perfect affair.Pledge to honor and love each other on a romantic beach at sunset, at a Victorian mansion surrounded by lush tropical gardens or tie the knot on a private tall-masted schooner at sea.
If you are planning a commitment ceremony, you are probably aware that Key West is the top-rated destination for gay and lesbian travelers, many who choose to make their union official on this magic island. As a matter of fact, Key West is the first city in Florida to officially recognize same-sex domestic partnerships.
So, whether you choose an intimate and informal wedding, a wedding at sea on a sailboat, a wedding package, or a huge celebration, Key West Travel Guide is here to make it the day of your dreams.
Should you desire, we will introduce you to a premiere party planner who will partner with the finest florists and top caterers to make the happiest event of your life totally stress free!
Key West Wedding Advice
Is there any place more perfect than Key West to have your wedding? We think not.
And countless couples agree. Getting married in Key West is always special and memorable.
While Key West Travel Guide doesn't perform weddings, we are very experienced with the many wedding service providers in town.
Our favorite is the lovely couple Colleen and Gary of "A Simple Wedding". This husband and wife team offer simple, heartfelt weddings at Smathers beach in Key West. Colleen performs the non-denominational (not religious) ceremony, while Gary, a professional photographer, expertly captures your big moment.
Cost: $650 for the package ($375 for the ceremony + $275 for the photography). Marriage license is additional.
Times: Ceremonies are available at 10:00 am and sunset.
For reservations and information Click here to ask our Wedding Planner a question
Event Space for Weddings & Rehearsal Dinners
The newly renovated and re-invented Mangoes restaurant on Duval Street offers few good options for hosting your wedding or rehearsal dinner. Indoor and outdoor spaces are available, with an upscale, relaxed Key West ambiance, and include:
Upstairs Banquet Room – with a capacity of up to 150 people, this private space overlooks the main Mangoes outdoor dining area. Full-bar, catering menu, and unique location in the middle of Key West's festive Duval Street.
Downstairs Dining Room – with a capacity of 50 people, and sliding glass doors leading to the outdoor patio allowing for a much larger party, this space is nearby the large outdoor bar.
Entire Restaurant, Indoors & Outdoors – the entire Mangoes restaurant can be made private, allowing your 300 guests to enjoy the modern, tropical cuisine, outstanding cocktails, and one-of-a-kind atmosphere of Key West.
Marriage License Information for Key West:
To obtain a marriage license in Key West, you'll need to visit the Marriage License Bureau:
Address: 500 Whitehead Street.
Hours of operation: 8:30 am – 5:00 pm, Monday through Friday
Phone: 305-294-4641.
Cost for marriage license: $113.50
Keep in mind:
There is a 3-day waiting period for Florida residents (you can take a class to remove the 3-day waiting period)
Non-residents of Florida can get their license without a waiting period.
BOTH participants much apply in person with photo ID's.
If either has been married before, they must provide divorce papers.
No blood test is needed.