The Florida Keys is home to some of the most beautiful State Parks.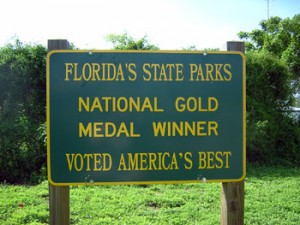 Florida's true wealth is based on its abundance of wildlife, diverse natural communities and unique cultural heritage. The State Parks in the Florida Keys are each unique in their character and beauty.
Bahia Honda State Park – Big Pine Key, mile marker 36.
Bahia Honda has a natural environment found nowhere else in the continental United States. In the park you will find several biological communities: beach dune, coastal berm, mangrove forest, tropical hardwood hammock, and submerged marine habitats. These communities host many plant and animal species of the Caribbean including several rare and unusual plants. Bird life of Bahia Honda includes herons, roseate spoonbills, egrets, ospreys, pelicans, and terns. Unlike most of the Florida Keys, Bahia Honda has a beautiful sandy beach along both the Atlantic Ocean and Florida Bay. Snorkeling, swimming, fishing, camping (80 sites), six bay-side cabins, and access to two boat ramps, make Bahia an outstanding recreational opportunity.
Dagny Johnson Key Largo Hammock Botanical State Park – Key Largo, located on C.R. 905 (1/4 mile north of Overseas Hwy).
This park, at 2,304 acres, is one of largest hardwood hammocks in the United States. It is home to 84 protected species of plants and animals, including the American crocodile. Nature lovers, bird watchers, and photographers can explore over 6 miles of trails, most of which are paved and accessible to both bicycles and wheelchairs.
Fort Zachary Taylor Historic State Park – Key West, end of Southard Street, in Truman Annex.
"Fort Zach", as the locals call it, was once surrounded by water and crucial to the defenses of the early United States. Today, historians, nature buffs, and beach-goers visit Key West's hometown state park. With it's pleasant man-made beach for swimming and snorkeling and shady picnic areas, Fort Taylor continues to be a favorite.
Indian Key State Historic Site – off Islamorada, mile marker 78.5, accessible only by private boat or charter boats available at nearby marinas.
This island was inhabited by Indians for several thousand years prior to the arrival of the Spanish. The wrecking and salvaging "industry" of the 1700s brought change and war to the mostly peaceful Indians. Jacob Housman bought the island in 1831, built a town, only to have it burned down in 1840 by the Seminoles during the Second Seminal War. A fascinating part of Florida's history and worth a visit if you have access to a boat.
John Pennekamp Coral Reef State Park – Key Largo, mile marker 102.5.
The first underwater state park in the United States, Pennekamp covers 70 nautical miles of coral reefs (a small portion of America's only living coral reef), seagrass beds, and mangrove swamps. The park offers swimming, snorkeling, picnicking, camping, fishing, and boat ramp access. Concessions at the park offer glassbottom boat tours, a snorkeling tour, scuba lessons and tours, canoeing, motorboat, and sailboat rental.
Lignumvitae Key State Botanical Site – off Islamorada, mile marker 78.5, accessible only by private boat or charter boats available at nearby marinas.
This 280-acre island supports many trees native to tropical forests such as mastic, gumbo limbo, Jamaica dogwood, poisonwood, and lignum vitae. 1-hour guided walks are given at 10:30 a.m., 1 p.m., and 2:30 p.m., Thursday through Monday. The park is closed on Tuesday and Wednesday.
Long Key State Recreational Area – Long Key, mile marker 67.5
Abundant in marine life and bird life, as well as tropical hammock trees Long Key visitors enjoy the area's sun-drenched, subtropical waters, and two nature trails available.
San Pedro Underwater Archaeological Preserve – Long Key.
The San Pedro was a 287-ton ship, part of the fleet of New Spain in 1733. Her remains were discovered in 1960 under 18 feet of water in Hawk Channel near Indian Key. The underwater site has been enhanced with seven replica cannons, an anchor and an information plaque. To prevent anchor damage, tie up to mooring buoys located at the site.