Key West's adult Halloween celebration, with plenty of bawdiness, body paint, and beads.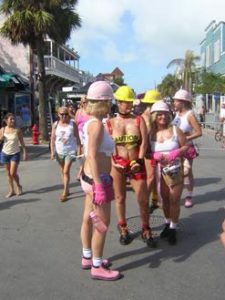 UPDATE! Fantasy Fest 2021 has been CANCELLED due to Covid-19
Key West Fantasy Fest is one of the biggest parties of the year. Halloween is turned on it's ear & into a Mardi Gras style parade complete with, sexy costumes, body paint, & bizarre floats loaded with revelers tossing beads to those they please. The 2018 theme is: "Oh..The Games We Play"
Adult costumes, body painting, & Key West Fantasy Fest costuming, is on wide display as many roam the crowds in titillating costumes or even bare-chested, some appearing as wide eyed lions (or maybe manatees).
It's part party, part bawdy, and if you choose, can be an erotic fest in Key West.
Throughout Fantasy Fest week, there are a wide variety of activities. Some of our favorites include the Headdress Ball, the Pet Masquerade, and the Hog's Breath Homemade Bikini contest. All of these events are packed and are a lot of fun.
The Friday Duval Street Fair closes the main artery to traffic, giving you a good opportunity to see many of the outlandish costumes. If you blush easily, prepare for redness.
Saturday night is the big parade. Absolutely, totally, 100% packed. Don't plan on meeting your friend on the other end of the street. Not a chance. Here is a good tip: find a good perch, preferably with a good steady stream of drinks, and enjoy the madness. Stay put and catch some beads!
UPDATE! The theme for Fantasy Fest 2020 (scheduled for October 16 – 25, 2020, BUT NOW CANCELLED) was: Roaring 2020's and Future Fictions