Have an absolute BLAST zooming across the water…all the way around the island of Key West!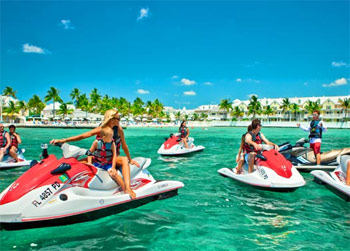 Waverunners, heirs to the Jet Ski, are a total thrill and a great way to see Key West from the beautiful waters that surround the island.
The around-the-island waverunner tour gives you the most bang for your buck. Up to three persons can ride one a single waverunner (450-pound max capacity), and your journey around the island travels 14 miles over the 90-minute adventure.
You'll experience Key West from the sea as you glide along – following an experienced guide on your way through the Atlantic Ocean and into the Gulf of Mexico.
Bring a waterproof camera to capture the memorable views such as the Southernmost Point, a WWII submarine base, wild mangrove islands, and many historic sites. You'll have an opportunity to hit the gas and do some "freestyle riding" along the way – and its not unusual to encounter schools of wild dolphin, stingrays and sea turtles as you travel.
Many people tell us that these tours are the absolute highlight of their vacation.
What to expect: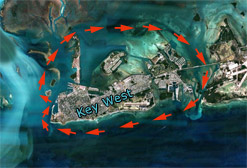 Check-in 15 minutes prior to your tour start time. (If you born in 1988 or after, you must check-in at 60-minutes prior before trip time to complete a mandatory Florida Boaters Safety Test, as per Florida regulations. The test cost is $3.)
You'll be given life jackets and instruction on how to operate the waverunner. Next, you'll begin your tour, circumnavigating the island of Key West. Along the way, you'll make a few stops where your guide will interpret the scenery and you'll have the opportunity to play and take a dip.
Cost:
Guided Waverunner Island Adventure Tour: $154.95 per waverunner
Morning Special: 8:30am tour is $129.95 per waverunner
Trip Times:
8:30 am – $129.95
10:30 am – $154.95
12:30 pm – $154.95
2:30 pm – $154.95
4:30 pm – $154.95
Important Rules:
Persons 24 and older may drive a jet ski (waverunner) with valid ID.
Persons 18-24 may drive a jet ski (waverunner) after completion of the safe drivers test (the test costs $3 additional)
Persons 16-18 may drive a jet ski when accompanied by an adult 25 & over, or when with someone 18-24 who has completed the safe boats test.
Persons under the age of 16 cannot drive a jet ski but may ride on the back with an adult.
3 person maximum on a jet ski.
Maximum total weight of passengers on a jet ski: 460 pounds total.
All drivers must present a picture I.D. and valid credit card for a damage deposit at check-in.
For reservations and information:

or call us toll-free at 877-INFO KEY (877-463-6539)