There is excellent shopping in Key West – if you know where to look. Skip the crass t-shirt and trinket shops on Duval Street and seek out these charming boutiques. Grocery store options also detailed.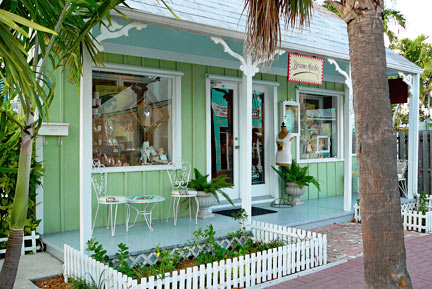 Historic Duval Street in Old Town Key West offers the best people watching, eating and drinking and, most importantly, the best shopping in South Florida. Everybody who comes to the island eventually gets around to cruising this street, where some of the most unusual and original shops offer something for everyone.
Anchored at one end by Mallory Square and at the other by the southernmost point in the United States, Duval Street's boutiques and gift shops are as much of the local charm as the gorgeous sunsets.
Whatever you want to purchase is probably available somewhere on Duval & at almost any hour you want to do it. Though there are plenty of tacky tee shirt shops peddling items of questionable taste, there are dozens of fine stores selling the excellent work of local artists and craftspeople.
National chain stores such as Banana Republic, Coach and Gap have moved in and satisfy some of the shopping needs in a town that does not boast even a single mall.
A genuine Key West shopping experience is Key West Aloe, at 416 Greene Street, who for over 35 years has made natural aloe products to protect, soothe and moisturize your skin the way nature intended.
Off Duval you will find the charming, well-curated, and unique Besame Mucho at 315 Petronia Street, offering a romantic collection of international delights including French beauty products, exotic chocolate, housewares, and original jewelry. And don't miss The Key Lime Shop, located at the corner of Greene Street & Elizabeth Street which, as the name implies, makes and sells items made from the legendary local citrus fruit. Caroline Street is another colorful Old Town street with eye-popping shops such as Local Color.
If you are interested in original designs for your home, visit ART@830 on Caroline Street. You'll find the incredible work of noted stained-glass artist Greg McDonald, whose exquisite arts and crafts genre lamps are found in only a few galleries worldwide.
Interested in fishing? Make a stop at The Angling Company, at 333 Simonton Street. They sell an impressive array of equipment and clothing for saltwater fishermen, especially fly-fishing.
Key West Grocery Stores
There are numerous options for grocery stores in Key West, from the boutique to the large chain stores, including:
Fausto's Food Palace – With two locations in Old Town, this smaller boutique grocery store has been in business for over 90 years and is one of the oldest businesses on the island. Inside you'll find an excellent wine selection, a bountiful harvest of fresh produce, gourmet shelf items, fresh fish, and the best butcher counter on the island. Prepared foods are available for take-out, and fresh-baked bread and deli meats are available to make sandwiches. Owned by a one-time mayor and current city commissioner, Fausto's is a significant part of the fabric of Key West life. Located at 522 Fleming Street and 1105 White Street. Grocery delivery is available; call 305-296-5663.
Publix – With two locations in New Town, both within a mile of each other, this large chain store is filled with every item you would expect from a supermarket. Located at 1112 Key Plaza and 3316 North Roosevelt Blvd.
Winn-Dixie – Another large supermarket chain filled with the typical items you'd expect. Located at 2778 North Roosevelt Blvd.