Not sure where this little island is exactly located? Take a look at this series of maps and information about where Key West is.
Key West is located at the end of the Florida Keys – a chain of small, coral islands which extend from the southern tip of the State of Florida.
The historic, tropical island of Key West lies at latitude 24 degrees, 34 minutes – making it the southernmost point of the continental United States.
It is easily reached from mainland Florida by land, air, and sea: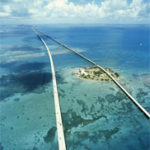 Land
US1 Highway, also known as the Overseas Highway, connects Key West to the mainland via a succession of 40 bridges, the longest being the breathtaking Seven Mile Bridge.
The 160 mile drive from Miami is one of the most unique driving routes and well worth the experience of seeing the clear turquoise waters while driving out to sea.
Tip: Follow the posted speed limits, especially in the Key Deer Refuge on Big Pine Key, which are strictly enforced and appreciated by the locals.
Air
Key West International Airport is located on the island of Key West and has daily direct flights to and from many south Florida airports, including Miami, Ft. Lauderdale, Tampa, and Orlando.
This little airport has been expanding its available options, and direct flights are now available from Atlanta, New Orleans, and LaGuardia (NYC).
From those airports, connections can be made around the world.
Sea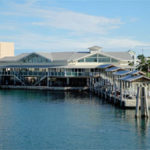 Traditionally, Key West was accessible only by sea. It was only when the railroad was built 100 years ago that a continuous roadway to the Key West was made available.
Even today, Key West is still a busy little port, receiving many pleasure cruisers, fishing boats, and cruise ships.
Daily ferry service is also available between Key West and Ft. Myers.
Where is Key West on a map?
Below are a three maps to help you understand exactly where Key West, Florida is located. Click on them for larger versions.