Key West's only public golf course was designed by Rees Jones and provides unique challenges to players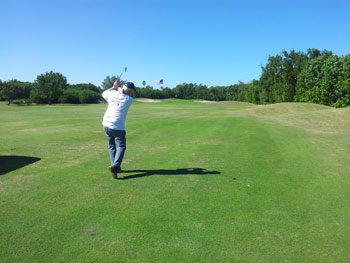 The Key West Golf Club, home to the only public golf course in the lower and middle Keys, is a unique, challenging, and certainly fun round of golf. Above all, the setting is stunning. The course is filled with palms, mangroves, and other tropical plants. Egrets, herons, pelicans, and many other birds are often enjoying the water hazards. And, believe it or not, tarpon are often seen "rolling" on the surface of the ponds.
This 18 hole, par-70 course measures over 5800 yards from the middle tees (6500 from the back tees). Each nine holes has one par-5, and two par-3s. Overall, the course plays more challenging than it reads on paper. The course has a lot of wide open drives and big fairways. So golfers are easily lured into using the big stick, a.k.a. the driver. But lot's of water hazards, sand, tight and sometimes long approaches, deep rough, and unforgiving mangrove forests (a black hole: never does the ball kick out), add more than a few extra strokes. Often times, keeping the Big Bertha in the bag will be a good idea. Then again, when else are you going to drive the green on a par 4?
Directions to the golf course from Key West:
Take US1 Highway out of Key West. Turn left at the first light (on the other side of the Cow Key Channel Bride). Continue 1 mile and enter Key West Golf Club course at 6450 E. College Road (on the right-hand side.)
Greens and other fees for non-residents:
Golf Rates

High Season: 10/1 – 5/31

Low Season: 6/1 – 9/30

18 Holes

$99

$75

Twilight (after 1pm)

$75

$55

Super-twilight

$55

not available
Rider Fee – 18 holes

$30

$30

Junior – (under 18)

$52

$42

Above rates include green & cart fees. – SOFT SPIKES REQUIRED – Golf club rentals: $45 (PREMIUM FULL SET)
Tips for playing the Key West golf course
Course map. Click for larger version.

Summertime is very hot, and a noon-time tee-off can be brutal. With long days that time of year, play early or late. And, drink plenty of water or Gatorade (you will need to replace your salts if you sweat).

The mangroves rarely kick a ball back out. And don't think of going in after it. Mosquitoes and muck await the uninformed.
The putting greens can play really slow or quickly. And the sandy substrate can make for a bumpy roll. Practice putting to get a feel for the greens.
Replace your divots with a scoop of sand from your cart. Keep play moving along. Though breaking up may be hard to do, that ball didn't really love you anyway.
Have fun! Playing a round of golf in paradise should be a treat and enjoyed. Our best wishes!
Hole by hole tips, from Concierge Dave:
| | | | |
| --- | --- | --- | --- |
| Holel | | | Tip |
| | 4 | 383 | Aim left of the trap, but if you can hit over 260 yards, aim for the trap and you may drive the green. |
| | 4 | 404 | Plays long, as the approach is uphill. Keep your drive left. The third most difficult hole on the course, a bogey is nothing to be ashamed of. |
| | 5 | 478 | This short par-5 has an easy drive but a difficult approach. Water and sloping angles near the green require a thought-out approach. Keep your drive in the middle and you'll keep out of trouble. Stray too far right, and go OB or get obstructed by the one large tree. Resident "ball vendors" offer bags of mistakes for sale along the right-hand fence. |
| | 4 | 340 | The fourth hole gives more golfers trouble than it should. At 340 yards, this par 4 doesn't have to be a problem. Keep the big stick in the bag and, with an iron you love, keep your tee-shot aimed to the right of the trap. Anything longer will end up in the trap, the mangroves to the right, or the next hole. Your approach shot may be just as long as your tee, just don't go long here. |
| | 3 | 135 | This very fun par three has a huge landing area. But don't let your exuberance get the best of you. Miscalculate your club and you will end up bouncing off the luxury condos or sliding off the edge of green in to the drink. |
| | 4 | 410 | This is the toughest hole on the course. It is so deceiving as the drive looks pretty wide open. Don't be fooled. The safe landing area is much tighter than it looks. If you go long, you're in the mangroves. Go right, and you are in the water. Go left, more mangroves. I suggest a fairway wood here. The important part is to aim for the furthest hump on the left side. Then, you'll have a good angle at the long, tight, and slightly uphill approach. Take a four here and consider going pro. |
| | 4 | 361 | Rees Jones designed this tight hole to first dogleg left, than right. Keep a conservative tee shot left-center. If you go right, you'll have a blind approach that consumes balls. From the left, your approach will still be partially obstructed. The green is guarded by traps up front and back-right. |
| | 3 | 146 | This is the famous mangrove hole. You may never golf another hole quite like it. The green is completely obstructed by a long stand of low-lying mangroves. A huge flag stick is the only clue to where to aim. The landing area is pretty big, but two sand traps guard those that go long & short. 7-iron should get you there. Also, at this hole you can call ahead on the clubhouse phone and have lunch waiting for you. |
| | 4 | 357 | Big drivers may be tempted to launch something huge here, but stray right and end up running into the mangroves. If you go big, try to clear the traps on the left. For the rest of us mortals, lay up to the right of the traps with a 3 or 5 wood. On approach, avoid the marshland on the left as you aim for the hole. |
| | 4 | 366 | Gotta love this course. After your big lunch, an easier hole. Stay left with as much club as you'd like and you'll have a short downhill approach. Stray right and enjoy one of Key West's beaches and hardwood hammocks. If things go well, who knows…maybe a birdie…maybe the start of a great nine. |
| | 4 | 424 | Eleven has a tight tee shot and a long approach. Stands of trees guard the right side, while the left side goes quickly out of bounds. Aim your driver to the right of the fairway sand trap. You'll also need a lot of club for the approach. Don't blow your round on this fourth-most-difficult hole of the course. |
| | 4 | 339 | Your tee shot will be beckoned by the water on the left and the trees on the right. Most mortals cannot aim their tee-shot at the green and clear the water. Better to play safe and shoot for the fairway. If done right, your approach will be like target practice. |
| | 3 | 165 | This hole is a no brainer with a big landing pad and not a lot to get into trouble. Watch for wind though, as the sheltered hole often hides the upper breeze. |
| | 4 | 348 | This hole is straight as a hallway and wide open. The real danger is the out of bounds along the right and the prevalent breeze towards it. Also, the green is small and hides water on it's left. Once again, a colorful cast of ball vendors along the fence offer plenty of used excuses. |
| | 4 | 376 | With a sharp dogleg to the left, many are tempted to cut the corner. Forget it. They still talk about the guy who did it. Keep it simple and in the middle/right of the huge fairway. You'll need to get around that big tree on the left for your approach. Water is hidden along the left side, especially as you approach the green. |
| | 3 | 140 | This hole is what the Keys are all about. Incredible flocks of tropical birds nest and enjoy the water to the left of what you'll need to clear. Nearly all water, an eight iron works for us, but come up short and trickle down into the agua. The big green should make you feel like Ernie Els. |
| | 4 | 332 | The hole begs to cut the corner. But it's riskier than it looks. Aim for the left side of the trap and if you clear it, you'll have a very short approach to the green. Stray right and if the sand doesn't eat you up, the luxury condos will. The green is drive-able, but not with our ball supply. |
| | 5 | 515 | Had enough? Well, eighteen is no walk in the park. Long, slightly uphill, and flanked by hazard, this hole will give you one last opportunity at screwing up. Aim your drive to the right of the center of the fairway. Go too far right and you will meet trees and fairway humps. Going left is wet…very wet. On approach, watch out for water that lurks to the left. |