The beautiful ecosystem of the Florida Key is fragile and protected by state and federal regulations. Learn about the most common rules you must know when visiting the area.
The Florida Keys and Key West are a fragile and unique environment brimming with life and complex ecosystems. Numerous state and federal regulations exist to protect the Florida Keys and surrounding ocean.
Recent reports of wildlife violations prompted us to create this guide to the many environmental protections that everyone, visitors and residents, should know. Please share this with anyone planning to visit Key West & the Florida Keys.
19 Environmental Protections You Should Know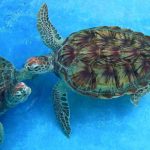 Turtles – There are five species of sea turtle in the Florida Keys, four of which are endangered. All are protected species and, as such, sea turtles and their egg nests must not be touched, disturbed, or taken – including by pets.
Marine Mammals – It is illegal to feed, harass, touch, capture, or kill any marine mammal, including dolphin and the manatee. Do not try to swim with dolphin in the wild (It's ok if they swim up to you, but swimming towards them is harassment). Do not feed or give water to manatee, otherwise you encourage them to frequent populated areas which often results in injury from boat propellers and hulls. Obey boat-speed restrictions in canals and other areas where manatees are often found, known as "Manatee Zones".
Crocodile – The American Crocodile is a threatened species and, though rarely seen in the lower Florida Keys & Key West, is protected by state and federal law. Do not harass, kill, touch, feed, or possess crocodile.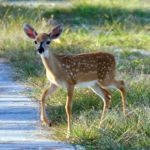 Key Deer – This miniature white-tailed deer is found only in the middle Florida Keys (mainly Big Pine Key & No Name Key), and they are a highly-endangered species, with less than 800 in the wild. The deer and their habitat are protected by numerous regulations established by the National Key Deer Refuge. Obey the strictly-enforced speed limits on Big Pine Key (45 mph during the day, 35 mph during the night) and keep an eye out for deer near the road. Do not feed, harass, touch, capture, or kill key deer.
Queen Conch – The large and beautiful shell of this mollusk is a symbol and mascot of Key West, sometimes known as the Conch Republic. It is illegal to harvest, take, or possess live Queen Conch.
Reef & Coral – Coral is fragile and under enormous threat from rising ocean temperatures as a result of global warming. It is prohibited to take, touch, possess, or remove coral. Do not stand on or touch reef when snorkeling and scuba diving. Do not anchor on reef – use a mooring buoy when available. Do not discharge holding tanks into the ocean. Know how to safely navigate so as to avoid running aground. There are significant fines for damaging the reef.
Sponges – Regulated by the Florida Fish & Wildlife Commission, the taking of sponges must follow strict rules and limits, including licensing. Do not touch, harvest, or molest sponge in the wild.
Mangroves – The saltwater tolerant mangrove has been found to be an important part of the Florida Keys ecosystem and, as a result, regulations were created to protect and preserve them. Learn more about them here. Do not cut, trim, remove, harvest, or harm mangroves.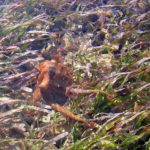 Seagrass – The shallow, grassy bottom of much of the Florida Keys waters is responsible for the large diversity and concentration of marine life. These grass beds are critically important habitat for countless juvenile fish, crustaceans, and invertebrates. Most of the Florida Keys nearshore water is very shallow – often less than a foot. Boats that run aground do serious and long-lasting damage. Florida regulations impose heavy fines for creating propeller scars in the seagrass beds. Rely on an updated marine chart and the ability to navigate a safe course. Otherwise, leave the skippering to a knowledgeable local.
Birds – All migratory birds in the Florida Keys are protected under the Migratory Bird Treaty Act. Do not hunt, trap, harvest, or harm any birds. (Chickens, a common sight in Key West, are also protected against any acts of malice.)
Miami Blue Butterfly – Highly-endangered and considered among the rarest insects in the United States. Learn more here. No person shall take, possess, or sell a Miami Blue Butterfly.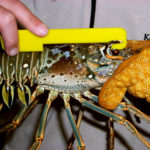 Lobster – Fishing for lobster has many restrictions. Lobster may only be caught from August 6 until March 31 (there is also a lobster "mini season" during the final Wednesday and Thursday of July). There is a 6 lobster per-person, per-day bag limit, and the carapace (main body shell) must be larger than three inches. Regulations require a fishing license & lobster permit, dive flag, and approved measuring device when in the water. Spearfishing lobster is prohibited. You must not fish for lobster in canals or within 300-feet of shoreline. Learn the lobster rules from this useful NOAA fact sheet.
Shark & Sawfish – Numerous sharks are now federally protected species and may not be harvested, including Caribbean reef, Hammerheads, Lemon, and Tiger shark. Sawfish are an endangered species and it is prohibited to purposefully hunt or interfere with them.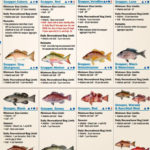 Fish: Nearly all fish in the Key West area have restrictions on minimum/maximum size, catch limit, and open/closed season. And there are numerous agencies on the water patrolling for violators. If you plan to fish in Key West, visit the Florida Fish and Wildlife Conservation Commission to learn about saltwater fishing regulations. Also, this chart from FWC is particularly helpful in identifying species and rules.
Tropical Sea Life – Harvesting of Bahamas Starfish, Longspine Urchin, Horseshoe Crab, Anemone, and Sea Fan is prohibited.
Dune vegetation – It is illegal to cut, harvest, remove, or eradicate any of the grass known as sea oat. Other dune vegetation is equally important to prevent shoreline erosion. Please do not walk on beach plants.
Sea water – All of the Florida Keys are a "no discharge zone." Boaters are prohibited from discharging sewage overboard. Use a pump-out facility to dispose of waste. Properly dispose of all garbage.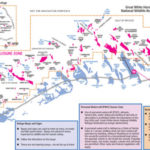 Ocean navigation – If you are going on the water, you should be aware of the boundaries of the Key West National Wildlife Refuge (includes every island west of Key West) and the Great White Heron National Wildlife Refuge (includes every island north of the inhabited lower Florida Keys islands). No personal watercraft are permitted in these areas, including waverunners, jet skis, airboats, hovercraft, water-skiing, and the landing of aircraft and ultralights. See this map to understand the refuge boundaries.
Backcountry Islands – The "backcountry" of the Florida Keys consists of uninhabited mangrove islands and shallow turquoise water. No camping, fires, or pets are permitted in any of the backcountry islands within the refuges.
Learn more about the environmental refuges and sanctuaries of the Florida Keys here:
Key West National Wildlife Refuge
Florida Keys National Marine Sanctuary
Great White Heron National Wildlife Refuge
Complete list of protected marine zones in the Florida Keys National Marine Sanctuary
Tips to help protect the Florida Keys environment:
Be gentle with the environment. Be kind to the wildlife by not disturbing or feeding them. Take only pictures. Leave only footprints.
If you are fishing, get a fishing license, know the regulations, possess appropriate measuring devices when fishing, and properly dispose of monofilament line. Visit the Florida Fish & Wildlife website to purchase a fishing license and learn about saltwater fishing regulations.
Do not dump boat & RV holding tanks into the environment or into sewer drains. Use a pump out facility, available at all marinas.
If you see trash, pick it up. Properly dispose of garbage. Recycle paper, plastic, and metal. Make it a mission to leave the Florida Keys better than you found it.
Report wildlife abuses. Call the Fish & Wildlife Commission at 888-404-3922, or dial *FWC or #FWC from your cell phone.
Thank you for helping to protect the beautiful Florida Keys & Key West!