Talented actors, choreographers, stage builders, and directors keep dazzling audiences with high quality productions.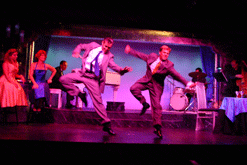 Key West residents and visitors to the island are fortunate to have the opportunity to enjoy outstanding live theatre and musical performances at several venues.
Throughout the tourist season there are a wide variety of cultural events going on nightly that should appeal to a wide variety of entertainment tastes.
The island has always treasured the performing arts and many playwrights and artists have made a home for themselves here.Tennessee Williams ("A Streetcar Named Desire", "Cat on a Hot Tin Roof") first purchased a small "conch house" here in the 1940's where he spent winters and holidays until his passing. Writer James Kirkwood ("A Chorus Line") and Terrence McNally ("Love! Valour! Compassion!","Master Class") also called Key West home. Legendary drag diva Divine ("Pink Flamingos") lived quietly on United St. for many years.
The Waterfront Playhouse, located on Mallory Square, is the oldest continuously running theatre group in Florida. This community acting company is entering it's 72nd year at the historic old brick building on the Gulf of Mexico in the heart of Old Town. In 2010, Florida Monthly magazine named the Waterfront Playhouse the best professional theater in Florida. For information on the upcoming shows and performance schedules, call 305-294-5015.
The Red Barn Theatre is an intimate 88 seat facility presenting professional drama, comedy, musical and children's productions from late fall through spring. A full-service bar, comfortable theater-style seating and an air-conditioned environment are among the amenities that bring back faithful patrons year after year. Located at 319 Duval St., the Red Barn has been an island cultural hotspot for almost three decades. For information or reservations call (305) 296-9911.
The Tennessee Williams Fine Arts Center is located on the campus of Florida Keys Community College at 5901 College Rd. on nearby Stock Island. This state-of-the-art facility is the largest auditorium in the area which hosts a wide variety of productions. Locally produced shows can be seen here annually, as well as touring road companies which bring in professional dance, opera, music and Broadway style shows. The Williams Center is also home to both the Key West Symphony Orchestra and The Key West Pops, the newest additions to the local cultural map. For more information call the box office at (305) 296-1520.
Though not primarily a venue for live performances, The Tropic Cinema is run through the auspices of the Key West Film Society. Located on Eaton St., the facility houses two auditoriums designed to bring art and alternative cinema to the community. They are, however, constructed with a proscenium arch, fly and wing space and the lighting equipment which enables them to present live performances in addition to their primary use as a home for fine films. For more information about the society, call (305) 295-9493 or visit their website at https://www.tropiccinema.com.
Key West Theater – The newest addition to live performance spaces is Key West Theater, and they have created something outstanding and needed. As a result of their efforts, Key West now sees national touring acts regularly visit the intimate theater which seats less than 300 people. What was originally a church, is now home to some of Key West's best music, comedy, and theater offerings. Wait staff attentively services patrons seated at tables, providing full bar service from the comfort of one's seat. Located at 512 Eaton Street, for more information call 305-985-0433, or visit https://www.ticketfly.com/venue/18671-key-west-theater/?_ga=1.218849247.791533369.1481561418 to see the upcoming show calendar and purchase tickets.
The Studios of Key West TSKW – The Studios of Key West is a contemporary art center just steps from Duval Street. The Studios offers a wonderful array of programs for visitors, including new exhibitions each month by local and national artists, live music and theater, art classes, and artist residencies. Built in 1951, their landmark Art Deco building is a true piece of Key West history, and it's the spot you don't want to miss if you're looking to connect with the creative spirit of the island. Their rooftop terrace boasts panoramic views over the rooftops of Old Town, stretching from the Gulf to the Atlantic. While you're there be sure to stop in at their bookstore, Books & Books at The Studios, which was founded by legendary writer Judy Blume. Their galleries are always free to the public and are open Tuesday-Saturday, 10am-4pm. Located at 533 Eaton Street, for more information call (305) 296-0458.