In Key West, public art is as much a part of the community as the natural beauty of the island.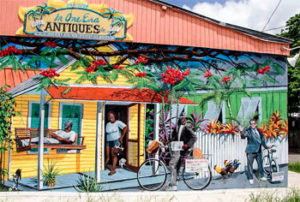 Public art in Key West and the Florida Keys is plentiful, accessible, and rewarding. Throughout the island you will find sculptures in public parks, exhibits at public buildings, and large murals painted throughout town. In Key West, there is an immense amount of artwork to view and appreciate.
Key West is so dedicated to art in public places that they even have a board of directors that advocates and co-ordinates the installation of art throughout the community.
Here are a few places to check out the impressive displays:
Sculpture Key West – An annual event where artists install contemporary sculptures throughout Key West, including Fort Zachary Taylor State Park, the Key West Botanical Garden, and West Martello. Each year's work dazzles with creativity and inventiveness.
Gato Building, 1100 Simonton Street – Monroe County's official workspace, the large Gato building that a century ago was a cigar factory, fills its free space with paintings and sculpture by local artists. It is an impressive display and well worth stopping by.
Murals – One of Key West's most beloved artists is Rick Worth, who generously paints large murals of Key West life and scenery throughout town. His murals can be seen at: Key West International Airport (above the entrance), corner of Petronia Street and Thomas Street (his newest – a mural of Bahama Village life), corner of Olivia Street and Simonton Street (a re-interpretation of Washington crossing the Delaware – in this one a former County Commissioner is leading the way under the Seven Mile Bridge), and the corner of Flagler Avenue and Bertha Street (trompe l'oeil of a seaside gazebo with pelican).
Key West International Airport – Inside the newly renovated Key West airport you will find a very impressive collection of works from some of Key West's notable artists – including the maritime artist David Harrison Wright, photographer C.J. Roth, and painter Debra Yates.
Seward Johnson sculptures – Resident, artist, and arts patron Seward Johnson has generously installed his large sculptures throughout town – each interpreting a famous painting or celebrity in three dimensions. You'll see them at: Key West Airport (when you arrive by plane, you'll see a group of figures waving to you from above the terminal entrance), Custom's House (there, a large dancing couple from a Renoir painting have come to life, as well as a few other works by him in and around the building), and the Tropic Cinema (where Marilyn Monroe is depicted in the white dress from the movie Seven Year Itch).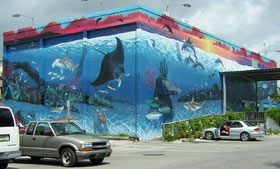 Wyland mural – The famous marine-life artist Wyland has painted one of the largest murals on the island in the Historic Seaport area. Near the corner of Caroline Street and William Street, if you look towards the seaport, you can't miss the very large depiction of underwater life, known as a Whaling Wall (this one is named "Florida's Living Reef"), that is painted on the former Waterfront Market (and soon to be brewery). Wyland also painted murals throughout the Florida Keys, including one in Marathon and one in Key Largo.
Key West Historic Sculpture Garden – In Mallory Square you will find a collection of thirty-six bronze busts, each of an important person to the history of Key West, including such notables as: Henry Flagler (who built the railroad to Key West), Eduardo Gato (who owned the Key West's largest cigar factory), John Geiger (Key West first harbor pilot), Ernest Hemingway (who wrote many of his famous works here), Harry Truman (who made Key West his working vacation home while president), and many others.