Home to the Sunset Celebration, where street performers & artisans set up nightly in view of Key West's famous sunset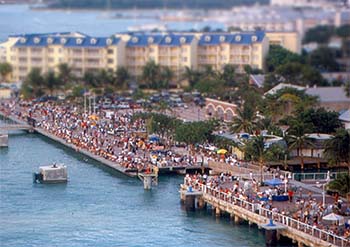 Few places in the world offer the sheer brilliance, the majesty, and the peacefulness of Key West when it's that special time for the sun to disappear below the horizon.
Sunset in Old Town is a time honored happening when hundreds of people gather on the docks of historic Mallory Square. That's where you'll see flame tossing jugglers, a Key West sword swallower, tightrope walkers, an exotic trained bird show and "Golden Elvis" and his sidekick, "Silver Man" – all the while being serenaded by assorted minstrels and the "Southernmost Bagpiper". Immediately next door, over a small footbridge, the acts continue where some of the most intriguing and locally famous acts, such as Dominique and His Flying House Cats, Speed Bump the Pig and Bounce and OOOLaLa.
If you're hungry, food vendors set up booths offering conch fritters, key limeade and other strictly home-made goodies. You'll laugh out loud as the legendary "Cookie Lady" promotes her warm delicacies while squawking slogans in perfect rhyme. There is no admission charge to the nightly celebration, but try to arrive thirty minutes prior to sunset to appreciate the full experience.
Below are the Key West sunset times, arranged for the 15th and 30th of each month:
Key West Sunset Times
| | | |
| --- | --- | --- |
| Month | 15th | 30th |
| January | 6:00 | 6:11 |
| February | 6:22 | 6:30 |
| March | 7:36 | 7:43 |
| April | 7:49 | 7:56 |
| May | 8:04 | 8:11 |
| June | 8:17 | 8:20 |
| July | 8:18 | 8:12 |
| August | 8:01 | 7:47 |
| September | 7:31 | 7:15 |
| October | 7:00 | 6:48 |
| November | 5:40 | 5:38 |
| December | 5:41 | 5:49 |