Airlines, car rentals, and ferries available for Key West
Key West is an island located many miles off Florida's south coast. The tiny island measures just 2 miles by 4 miles and is actually closer to Havana, Cuba than Miami, Florida. More about where Key West is located.
To get to Key West, visitors have the choice of air, land and sea transportation.
Flights to Key West: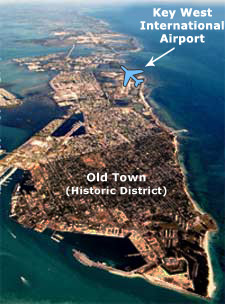 Daily flights by a handful of major airlines bring in many passengers from all over the world.
Airlines that currently fly to Key West with non-stop service:
Delta – flights available to/from Atlanta (ATL) and New York LaGuardia (LGA)
American – flights available to/from Miami (MIA), Boston (BOS), Philadelphia (PHL), Dallas/Fort Worth (DFW), Charlotte (CLT), Washington DC (DCA)
United – flights available to/from Chicago (ORD), Newark (EWR)
Silver Airways – flights available to/from Ft. Lauderdale (FLL), Fort Myers (RSW), Tampa (TPA), Orlando (MCO)
Code Shares – airlines sometimes make agreements with each other that allow them to sell each others flights, known as "code shares", thereby allowing them to have more routes into various airports. Key West's code shares, as of now, are as follows:
jetBlue – operated by Silver Airways
United – operated by Silver Airways
British Airways – operated by American Airlines
Frequently Asked Questions about flying to Key West:
What airport do you fly into for Key West?
The small island of Key West has its own airport directly on the island, named Key West International, airport code EYW. Interesting fact: This is an "international" airport due to having a US Customs facility – a necessity for foreign flights. Key West International is located on the eastern end of Key West, a 4-mile wide island, located offshore of the southeast tip of Florida.
What airport is closest to Key West?
The closest airport to Key West is Key West International, airport code EYW. It is located directly on the island.
Common connecting airports include: Miami (MIA), Fort Lauderdale (FLL), Tampa (TPA), Orlando (MCO), and Atlanta (ATL)(
How many miles is Key West?
Key West is a four-mile long, two-mile wide island, and located:
90 miles from mainland Florida. (It's an offshore island among the Florida Keys!)
165 miles from Miami, Florida
188 miles from Fort Lauderdale, Florida
392 miles from Orlando, Florida
425 miles from Tampa, Florida
Rental Cars & Driving to Key West
Key West is the westernmost island among the Florida Keys that you can drive to, and is one of the most scenic roads in North America. A series of bridges and islands extend nearly 90 miles off the mainland until its end at U.S. Highway 1 mile marker zero: Key West.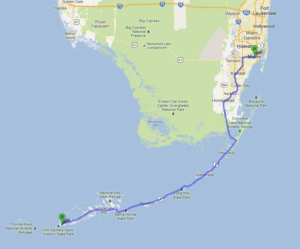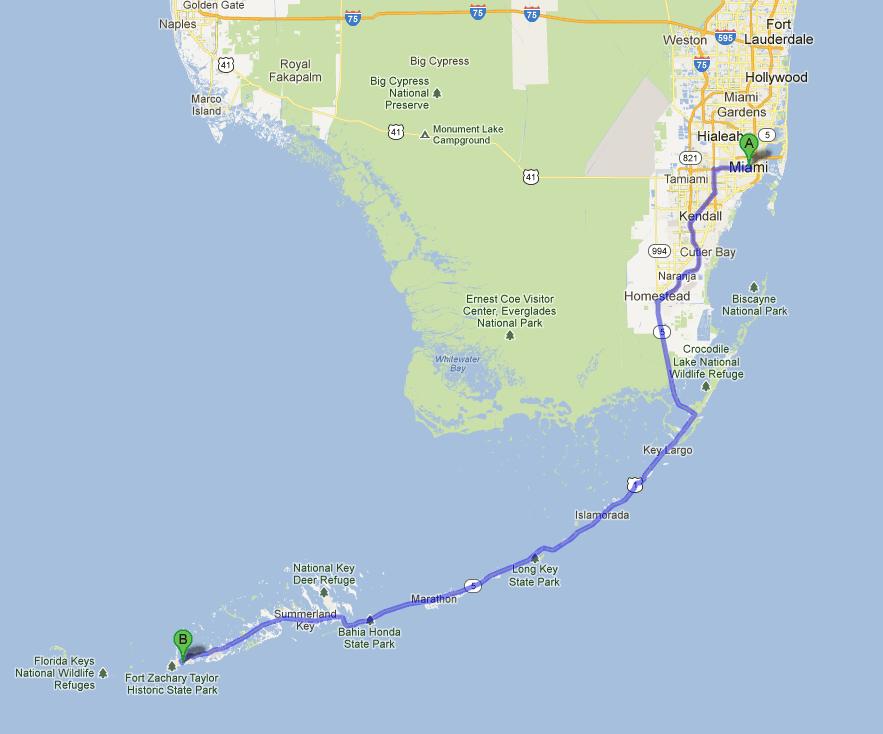 Along the drive, you can check what the rest of the Keys look and feel like. But it is the bridges, sloping above the blue green water, that steal the show. The longest, the Seven Mile Bridge, gives drivers the truest sense that they are heading out to sea.
From Miami, the drive will take around 3 hours, from Ft. Lauderdale a little closer to 4 hours.
The Florida Turnpike is the fastest route to the entrance to the Florida Keys. Update: The Florida Turnpike no longer has toll plazas. Instead, you will be charged tolls via your license plate, unless you have a SunPass device. Most rental car companies will have a program that will allow you to pay electronically – but check with them when you rent your car).
When you get to the southern end of the Florida Turnpike, you will then take US 1 all the way to Key West. Take your time on this drive. The speed limits are strictly enforced, especially in the Key Deer zone on and around Big Pine Key. There, the speed is 35 at night and 45 during the day.
Once in Key West, you will not use a rental car much. If you are staying in Old Town, the historic quarter, most everything is within a short, charming walk. Many guests return their car at the airport when they arrive, and pick another one back up at the end of their week. The following companies have rental car counters at the Key West International Airport: Avis, Budget, Dollar, Hertz. Off-airport rental car companies in Key West include: Enterprise, Alamo, and National.

Ferry to Key West
Ferry service is available to Key West from Ft. Myers. This trip is full day with overnight options available.
There is no ferry service to Key West from any other city, including Miami.
Cruise Ships
While many cruise ships visit Key West, there are none that originate their itinerary here. All cruise ships depart from other coastal cities, but not Key West. This means you cannot board any cruise ship in Key West unless you arrived on that ship.