Tiny Island has and abundance of religious organizations of all denominations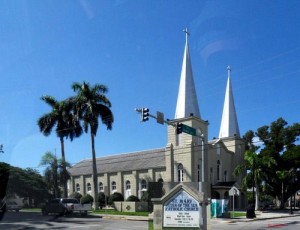 Key West is a vibrant community of all faiths and home to some of the oldest parishes in the State of Florida.
Nearly all denominations are represented on the island. Below is a list of churches and houses of worship located in Key West, along with their locations and phone numbers.
AME (African Methodist Episcopal)
Bethel AME Church, 223 Truman Avenue – (305) 296-1301
Assembly of God
Glad Tidings Tabernacle, 1209 United Street – (305) 296-5773
Baptist
Fifth Street Baptist Church (Southern), 1311 5th Street – (305) 294-2255
St. James First Missionary Baptist Church (National), 312 Oliva St – (305) 296-5593
White Street Baptist Church, 1328 White Street – (305) 293-0004
Buddhist
Nichiren Daishonin Buddhism – (305) 292-0435
Key West Mindfulness Center, 909 Flagler Avenue – (305) 296-3346
Tibetan Buddhist – (305) 293-6283
Catholic
St. Mary's Star of the Sea, Truman Avenue and Windsor Lane – (305) 294-1018
Charismatic
Eagle's Rest Christian Center,Poinciana School Auditorium, 1400 14th Street – (305) 522-3693
Christian
First Church of Christ Scientist, 327 Elizabeth Street – (305) 296-8215
Church of Christ
Church of Christ, 710 VonPhister – (305) 296-3331
First Congregational Church (United), 527 William Street – (305) 296-8633
Church of God
Church of God, 1419 White Street – (305) 296-8844
Church of God Prophecy, 815 Elizabeth Street – (305) 294-1288
Episcopal
St. Paul's Episcopal Church, 800 Center Street – (305) 296-2346
St. Peter's Episcopal Church, 401 Duval Street – (305) 296-5142
Islam
Masjid Al-Maalik, 801 Emma Street, (305) 295-8350
Jehovah's Witness
Jehovah's Witness Kingdom Hall, 1117 White Street – (305) 294-0482
Jewish
B'Nai Zion Synagogue, 750 United Street – (305) 294-3437
Chabad Jewish Center & Mikvah, 800 Eisenhower Drive – (305) 295-0013
Keys Jewish Community Center – (305) 852-5235
Key West Hebrew School, 800 Eisenhower Dr – (305) 295-0206
Latter Day Saints – Mormon
Church of Jesus Christ of Latter Day Saints, 3424 Northside Drive – (305) 294-9400
Lutheran
Grace Lutheran Church (Missouri Synod), 2713 Flagler Avenue – (305) 296-5161
Holy Trinity Lutheran Church (ECLA), 2610 Flagler Avenue (Peace Covenant Presbyterian Church) – (305) 294-1305
Methodist
Key West United Methodist Church, 600 Eaton Street – (305) 296-2392
Newman United Methodist, 410 Truman Avenue, (305) 414-8611
Trinity Wesleyan Methodist Episcopal Ministries, 619 Petronia Street, (305) 396-7598
Non-Denominational
Gospel Chapel, 720 Southard Street – (305) 294-4351
Holiness Wesleyan Church, 1011 Virginia Street – (305) 745-3418
Metropolitan Community Church, 1215 Petronia Street – (305) 294-8912
Revelation House, 2100 Flagler, Band Room – (305) 296-8944
Key West Bible Class, 925 Whitehead Street – (305) 296-2029
Pentecostal
Church of God (Pentecostal Holiness), 1419 White Street – (305) 296-8844
Southernmost Church of God in Christ in Prayer Room (Pentecostal Holiness), 729 Fleming Street – (305) 292-6416
Winds of the Spirit Ministry, 1213 Glynn Archer Jr Drive – (305) 292-6479
Presbyterian
Peace Covenant Presbyterian (USA), 2610 Flagler Avenue – (305) 294-1223
Seventh Day Adventists
Southernmost Seventh Day Advenist Church, 1066 Thomas Street – (305) 294-4077
Wesleyan
Keys Community Church, 3317 Riviera Drive – (305) 294-8837