History of Key West Travel Guide
Founded by two Key West locals, Gordon and Dave, with a combined concierge experience of over 40 years, Key West Travel Guide is a most trustworthy local source for up-to-date information about the island.
Each staff member has a comprehensive knowledge of Key West and the many amenities and activities available for visitors and residents.
If you have any question about Key West, there is no better place to inquire.
The Staff of Key West Travel Guide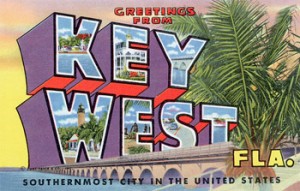 Gordon Mackey
Co-Founder

Gordon Mackey has made the Island City his primary home for almost 45 years, moving here from Richmond, Va. in 1975. Born in New York City and raised in the foothills of the Blue Ridge Mountains, he received his BFA in Acting from Virginia Commonwealth University in 1973. After a very memorable Florida Keys Christmas vacation, he and a ragtag collection of college chums fulfilled a lifetime dream of moving to "Paradise" and opening a small professional acting company they would name the Greene Street
Theatre. From this early genesis, that same core of artists morphed into the group that now runs the highly successful Red Barn Theatre where Gordon held the position of Publicity Director for over 15 years. He will appear on this stage again as he returns to performing in the role of Vanya in Christopher Durang's Tony Award winning comedy, Vanya and Sonia and Masha and Spike, opening in January of 2014. Gordon was first employed as lead concierge for a four-star private resort in 1996 where he remained for over six years. He then moved to a nationally known hotel franchise where he polished his skills as a full time concierge, well recognized in local circles as a proven expert on everything Key West has to offer our travelers from all over the world. He and business partner David Dlugitch then formed the independent concierge company and informative website, Key West Travel Guide, now in its fourteenth year of welcoming guests to our beautiful island. Gordon is the proud owner of two wonderful rescue/shelter dogs, ten year old miniature schnauzer Tink and one year old terrier mix, Kaitlin.
David Dlugitch
Co-Founder

As the adage goes, everyone in Key West is running, hiding, or escaping something. For David Dlugitch, this is no less true as he escaped the "real world" for an opportunity to live island life. Despite being born in the Northeast, educated at the University of Massachusetts in Amherst, and spending almost a decade working in New York City, he never forgot the idea that there was still time to make a life amongst the palm trees. Twenty years ago he made the move and drove to Key West. Here, David started Key West Kayak Fishing, Key West's original kayak fishing guide service, and led daily kayak-fishing expeditions and eco-tours through the mangroves. His close interaction with the ecology, wildlife, and visitors to the island made him forever appreciate the special place that is Key West. Fourteen years ago David began sharing his knowledge of the island while working as a concierge at a major island hotel alongside one of Key West's most recognized and skilled concierges – Gordon Mackey. Soon after, the two formed Key West Travel Guide, dedicated to helping visitors plan to enjoy their island life with the most comprehensive, up-to-date, and trustworthy guide to Key West. David likes to spend his time in Key West tending to a large orchid collection, exploring the backcountry islands on boats, sailing points near and far, beach walking and shell collecting with his beloved wife Martha, and restoring their historic cottage in Old Town. David is the proud owner of a rescue/shelter cat, Red, an orange-tabby with an oversized personality who insists on waking him each morning like a rooster.