One of the biggest New Year's Eve parties in the US features Key West at its zaniest.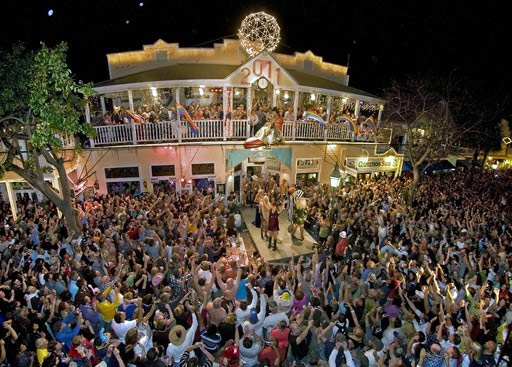 Key West has become known nationally for its New Year's Eve celebration with annual live coverage by CNN. The lowering of a drag queen on Duval Street from atop one of the island bars makes great television. It's even better when seen in person.
No doubt about it…Key West love's to party. And what's a better excuse than New Year's Eve?
FOUR different gathering spots offer their own unique version of the time honored tradition of lowering something special as the clock winds away the last seconds of the year.
Your choices are:
to see a big conch shell lowered from atop Sloppy Joe's Bar…a crowded and boisterous affair
to see a Pirate Wench lowered from the mast of a schooner in the Historic Seaport
see the free concert on the Sunset Pier at the Ocean Key House (1 Duval Street) and watch as they lower a key lime wedge at midnight
or, (CNN's favorite) to see Sushi, a local drag queen celeb, lowered from a Duval Street balcony, riding a huge high-heeled shoe.
Whatever your choice, we at Key West Travel Guide want to wish everyone a New Year filled with joy, coconuts, a nice tan, good health, laughter, and wonderment.
Oh…and peace on Earth (come on World!…make believe you just booked a vacation to Key West)