Our favorite Florida Keys beaches. (Yes, there are nice beaches in Key West!)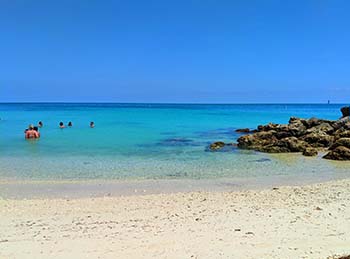 Looking for a good beach while visiting Key West?
Many visitors are surprised to find that the island paradise of the Florida Keys does not have a lot of beaches.
You see, Key West and the rest of the Florida Keys are coral islands – former reefs, created when the ocean was deeper and the region was submerged below the sea.
Today, the ocean is shallower and the living coral reefs are six miles offshore, providing a barrier to waves and swells. Thus, with little sand to begin with, and a lack of wave action to deposit more, beaches in the Keys are a bit of a rarity.
That being said, you still have some great options for quality Key West beach time.
Here are our suggestions: