Located in Key West, this is a Florida State Park & favorite known to locals as Fort Zach.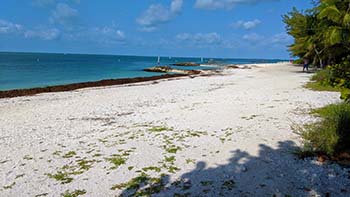 Fort Zachary Taylor State Park has a beach that is a mixture of sand and coral rock. Swimming along the three coves of the water is quite popular and enjoyable. Snorkelers can explore the rock-pile barriers just offshore to observe small tropical fish.
The local Key West residents prefer this beach, mainly due to the quality of the water – thanks to tidal flow bringing in fresh sea water. And the pine trees on land provide a nice shady area to enjoy the many picnic tables available there.
Bathrooms, lockers, changing rooms, food and beverages are all available.
To get there:
Travel down Southard Street into Truman Annex. Continue to end and follow signs to the Park Entrance. There is a small entrance fee – well worth the price of admission. The beach is over 1/2 mile more away from the guard shack. Bicycles are the preferred way to get to Ft. Zach, but if you enjoy a long walk it is enjoyable.
Taxis will drop off and pick up people at the concession stand, and there is parking available for your vehicle.
Entrance Fees:
Vehicles:
with 1 person: $4.50
with 2-8 people: $7.00 plus $0.50 per person
Bikes and walkers:
$2.50 per person
Hours of operation:
Park opens daily at 8am and closes promptly at sunset. Self-guided tours of the fort end at 5pm.
Concession stand cafe: 10am – 6pm