Located on Key West's southern shore, this long and tranquil beach is almost 1 mile long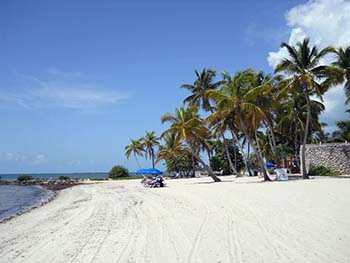 Key West largest beach runs along the southern shore of the island for almost 2 miles. Beach activity ranges from tanning, volleyball, and watersport/beachsport rentals.
The sand is brought in from the Bahamas (island rumor) and deposited there for your pleasure. Tropical storms have a habit of sweeping the sand away, and nearly every other year the city of Key West has to replenish the beach.
You can leave your surfboard home – the minuscule swell is not even a ripple. Snorkelers have a swim zone to enjoy just offshore – small stuff…mostly.
Vending trucks offer snacks, beverages, chairs, and rafts. Public restrooms and showers available.
Getting There: South Roosevelt Blvd., from the Key West airport to Bertha Street.
Fees: FREE