Key West is a feast for the senses – especially the fresh seafood and inventive island cuisine.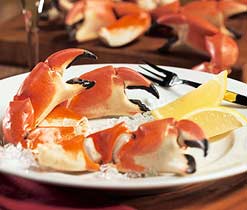 Come hungry… leave happy.
Key West loves a good meal as much as it loves a good party. Island cuisine offers fresh seafood, Caribbean flavors, and Key West charm.
Long acclaimed for its laid-back lifestyle and fun & funky personality, Key West is equally renowned for its wonderful restaurants and bars. The burgeoning number of established and brand new eateries have attracted award-winning chefs and rising new stars fresh from the top culinary schools who continue to make this tiny island a draw for "foodies" from all over the world.
Local dining choices range from five-star gourmet establishments to casual cafes and raw bars. From Duval Street and the waterfront, to hidden Old Town gems or the Historic Seaport, restaurants occupy old homes and other buildings featuring widely diverse architectural styles. Dining in Key West is more than just a meal – it's a real experience.
Of course, frozen pina coladas and conch fritters are not what make this island a culinary paradise. The town's tropical climate and proximity to Cuba, only 90 miles away, play unmistakable roles in the creation of Key West cuisine. Fresh seafood, Florida citrus and exotic fruits figure prominently on island menus, as do plantains, black beans and other Cuban and Caribbean specialties. Be sure to stop in at one of the many little Spanish cafes to sample the inexpensive and delicious fare, or simply to try a cup of authentic café con leche (Cuban espresso with steamed milk).
Seafood is what visitors to Florida are always asking for, and Key West is certainly the star in that department. Stone crab claws, spiny lobster, and yellowtail snapper – you name it: if it swims, crawls or grows in the ocean, you can be sure its on a menu in this food-loving city. Among the most sought-after Key West delicacies are pink shrimp, which are harvested from fisheries in and around the Dry Tortugas. So desirable that they are often referred to as "pink gold," these incredibly sweet shrimp are served in every style imaginable – from broiled and baked to marinated, sautéed, fried and grilled. Sit down with a pound of fresh "peel 'n' eat" shrimp and a frosty mug of beer for a reasonably priced slice of Key West heaven.
Key Lime Pie
Speaking of slices, let us now pay tribute to the legendary key lime pie. So much has been said and written about this fabled signature sweet that few people know the real deal from frozen or chain restaurant versions.
Real key lime pie is made from authentic key limes (about the size of a small egg with very tart pulp), and the true test of the product is its color: it has a yellow (not green!) custard in a pressed graham-cracker crust and tastes like nothing else.
Some restaurants top off the pie with whipped cream, but any local worth his salt knows that a lightly-browned meringue topping makes it the "real McCoy."