Seeing Key West's spectacular sunset while on a boat is an island tradition. Here are your choices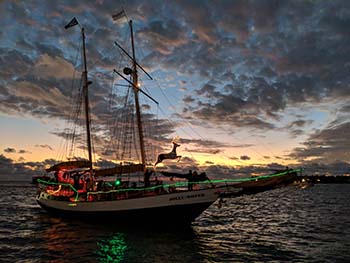 Many visitors agree that the most beautiful way to observe our famous sunset is from the water, enjoying some Key West sailing down to the Southernmost Point, and toasting the end of another magical day.
It is a popular activity. While you are sailing you will be see a fleet of Key West sailboats on the water – each admiring the view of the variety of boats, the on-board music, and the deeply hued setting sun.
You may choose from a sleek modern catamaran, an historic tall sail schooner, a glass-bottom boat, or your very own privately chartered boat. Whichever fits your mood or budget, they generally will all provide unlimited beer, wine, sodas and, of course, champagne for the duration of the two hour trips.