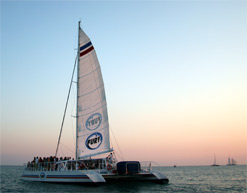 Trop-rock into the sunset on a sailboat! Includes free-flowing beer, wine, margaritas, and snacks
A sunset party in Key West – now you can celebrate it aboard a sailboat with live music.
This huge sailing catamaran hosts a concert and booze cruise 7 nights each week. The vessel is very stable and roomy – with comfortable seating and modern marine restrooms.
Quality musicians are provided by the famous Hog's Breath Saloon of Key West. The musicians play on the spacious foredeck with plenty of room to dance, relax, and take in the sunset.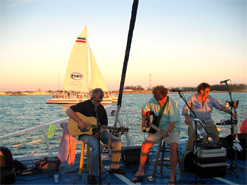 Included with this trip:
2-hour sunset sail
Live music
Unlimited Beer, Wine, & MARGARITAS!
Soft drinks, water, ice.
Snacks – an excellent buffet of hors d'oeuvres, including:
• Meatballs with House Made Guava BBQ Sauce
• Spanakopita
• Shrimp Cocktail with Cocktail Sauce
• Fresh Vegetable Platter with White Balsamic Dressing
• Roasted Red Pepper Hummus
• Smoked Fish Dip
• Assorted Cheese & Cracker Platter
Time:
winter 5:00 – 7:00 pm (March thru May: 6pm – 8pm)
summer 6:30 – 8:30 pm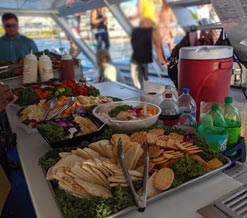 Cost:
$79.95 per adult
$55.95 for children 4 – 10 years
Free for children under 4 years
For reservations and information: