Like snorkeling, but you can breath underwater thanks to scuba air tanks floating on the surface.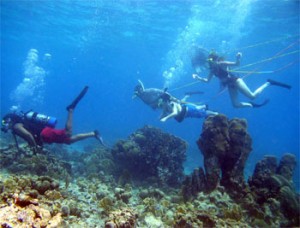 An increasingly popular ocean activity is SNUBA diving (Surface Nexus Underwater Breathing Apparatus), which, unlike SCUBA diving, does not require any type of certification.
At depths of up to twenty feet, you'll breathe air from tanks floating on the surface via long hoses and mouthpieces (regulators).
While SNUBA diving, you'll be free from wearing heavy tanks and you'll breath normally while underwater…just like a fish!
The entire time the divemaster accompanies you on your journey underwater. With a twenty-minute lesson from your divemaster, you will be diving the reef that same day.
Times:
3-hour trips available, starting at 9am or 1pm
Cost:
$120 per person, plus $24 fuel surcharge
$100 for children 8 – 12 years, plus $24 fuel surcharge
$70 for non-SNUBA riders and snorkelers, plus $24 fuel surcharge
For reservations and information: