Smaller group, impressive mono-hull sailboat, offering relaxed snorkel trips to the reef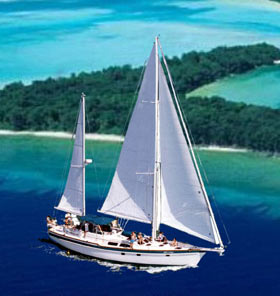 This elegant boat, the sailing vessel Floridays, offers a great three-hour Key West snorkeling trip.
Twice daily they sail to the reef. The impressive 60′ sailboat has a capacity of 31 passengers, but only takes 16. This extra room on such a big boat feels luxurious. And yet, the price is only a few dollars more than the catamarans.
What to expect:
Check in 15 minutes prior to departure. (Boat is certified to hold 31 passengers, but only takes 16 to go snorkeling, giving you plenty of room on the boat.) You'll sail for 1-hour to the reef, then have 1-hour to snorkel, and next sail back for 1-hour. Trips are intentionally timed to be 1-hour off of the big catamaran schedules so there are less people at the reef when you snorkel.
What you should bring:
We suggest a towel, sunscreen, sunglasses, hat, camera, and any snacks you want. A waterproof camera is also fun for recording your snorkeling adventure.
Trip Details:
$79 per person
Morning trip: 10:00 am -1:00 pm (winter departs at 9 am)
Afternoon trip: 2:00 pm – 5:00 pm (winter departs at 1 pm)
Trips include sodas, better beer (Corona, Coors Light, Yingling), wine, snacks (chips, crackers, peanuts), hot water shower, and quality snorkel gear.
For reservations and information: