Have the boat and Captain to yourself, allowing for custom trips to suit your wishes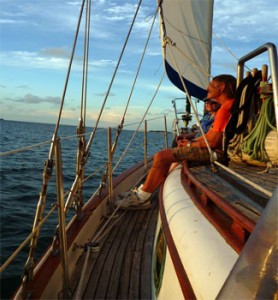 Enjoy privacy, a bit of luxury, and your own unique charter. And all if it in the incredibly beautiful ocean surrounding Key West.
If you are really looking to get away from it all, then there is no better way than on the water and aboard your own private vessel.
All snorkeling gear and beverages are provided, and you can bring aboard whatever else you would like to enjoy.
The Captain is happy to make whatever extra arrangements to make your trip as you desire. And if you like, lending a hand with sailing the boat is welcome – just mention it to the Captain.
The boat has a 6-passenger maximum, as per Coast Guard regulations. This private-charter sailboat (dare we say yacht) is very well maintained and is wonderful for a Key West snorkeling trip.
Blue Ice
47′ Sloop, one of Key West's largest and fastest 6-passenger sailing vessels.
What to expect: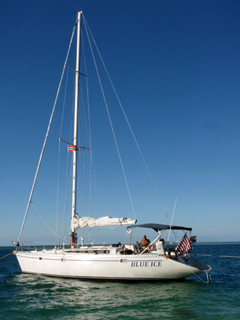 Board this impressive vessel in the Historic Seaport fifteen minutes prior to your charter's start time. You'll leave the dock and sail 6 miles to the coral reef. The water is 20 feet deep there, and coral grows to nearly the surface. You'll then have plenty of time to snorkel the warm, usually calm water, relax, and enjoy the beautiful scenery. After that, you'll have a leisurely sail back to Key West.
Trip details:
Includes snorkeling gear, beach towels, beer, wine, champagne, soft drinks, and bottled water. 4-hour charter also includes platter with cheese, crackers, and fresh fruit. 7-hour charter also includes deli sandwiches.
Cost:
For reservations and information: