Wouldn't it be nice to have your own boat in Key West? Well you can! Private charters sail nightly to see the sunset.
Get away from the crowd…design your own private, personal, sunset voyage.
Bring aboard whatever snacks you would like, maybe a special bottle of wine or champagne, and have an on-board picnic.
A private charter is pure bliss. Just you, your family and friends, and the Captain and mate, sailing Key West's aqua-blue waters. You are welcome to help sail, and even beginners are encouraged to participate if they like.
Charters depart from the Historic Seaport and, in our opinion, are one of the best ways to spend a couple hours in Key West.
Blue Ice – 47′ Sloop, one of Key West's largest and fastest 6-passenger sailing vessels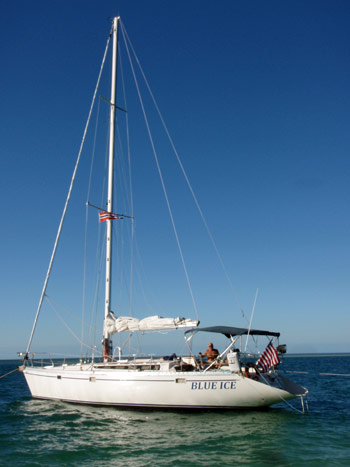 What to expect:
This boat was built for sailing, and being aboard her is a joy. You'll sail out into Key West harbor and weave your way through the rest of the fleet while the sun inches its way towards the horizon. Included is unlimited beer, wine, domestic champagne, sodas, and waters. Feel free to bring any more substantial picnic, snacks, etc. or liquors that you may want. Friendly Captain and mate keep a relaxing attitude – letting you sit back and savor the beauty. Shortly after sunset, you'll head back to the docks for a perfect end to another day in Key West.
Time:
Cost:
For reservations and information: