A great view – above and below deck. Air-conditioned comfort on this Key West cruise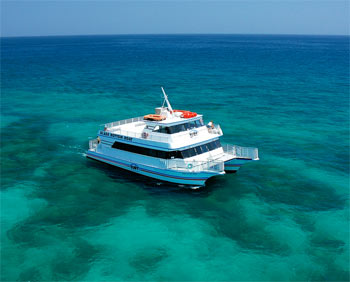 On this sunset tour you'll first be taken out to see the reef aboard a comfortable (and air-conditioned!), glassbottom boat.
Trip details:
On your ride out stay "on deck" to enjoy the fresh air and views. Once at the reef, go below deck and enjoy the wonders of the reef's creatures.
A very knowledgeable and helpful mate will be narrating what is in view – much of it is very interesting.
Next, you'll be whisked back to Key West to enjoy a harbor tour and the stunning Key West sunset.
Included:
Sodas and a non-alcoholic champagne toast are included. Cash-only snack bar is available. For those preferring beer or wine, you are welcome to bring them.
Trip Times:
January 30th to March 12th 2022: 4:30pm – 6:30pm
March 13th to September 5th 2022: 6:00pm – 8:00pm
September 6th to September 24th 2022: 5:30pm – 7:30pm
September 25th to November 5th 2022: 5:00pm – 7:00pm
November 6th to January 28th 2023: 4:00pm – 6:00pm
Cost:
$64.95 per adult
$45.95 for children 4 – 10 years
Free for children under 4 years
For reservations and information: