Easy and rewarding kayaking trips that explore offshore mangrove islands and seagrass habitat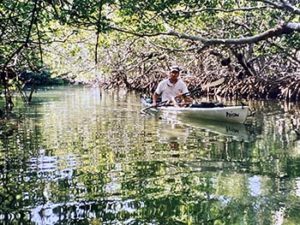 There may be no place as ideal for kayaking as Key West. With a diverse eco-system, winding mangrove passageways, and calm shallow water, the Florida Keys provide easy and rewarding kayaking. Beginners will enjoy the easy introduction to the sport. Experts will marvel at all they can explore.
The barrier reef of the Keys results in calm and clear water near the islands. Paddlers enjoy a relaxing pace as they explore and take-in the beauty of the natural environment. Red, Black, and White Mangrove create unique landscapes and are home to many interesting organisms. Fish, stingrays, lobster, conch, and many other creatures will fascinate anyone who takes the time to look. The number and diversity of birds will astound as well.
Guided tours are transported to the backcountry aboard a traditional "skipjack" schooner for a morning or afternoon eco-tour in a group of up to 18 people.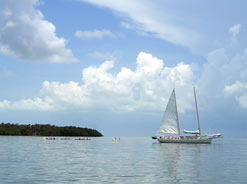 Sail, Kayak, & Snorkel Trips Info:
1/2 day trips:
Visits backcountry mangrove islands
Includes snacks, beverages, and gear
COST: Morning trip: $99 adults/$79 kids 12 & under;
Afternoon trip: $109 adults/$89 kids 12 & under. (Parties of 5 or more will be charged a 15% gratuity)
TIMES: 9am – 1:30pm & 2pm – 6:30pm (winter hours)
9:30am – 2pm & 3:30pm – 8pm (spring & summer hours)
Full-day trip:
Visits reef and backcountry island, and sometimes a sandbar
Includes lunch, snacks, beverages, and all gear
COST: $134 adult/$109 kids 12 & under (Parties of 5 or more may be charged a 15% gratuity)
TIME: 9:30 am – 4:00 pm (10:00 am – 4:30 pm during spring & summer)
For reservations and information: