Dance the night away. And the day away too. It is, after all, Key West.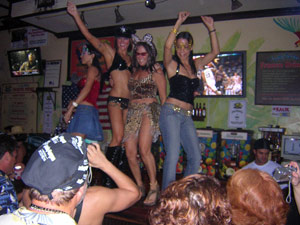 Friedrich Nietzsche said, "We should consider every day lost on which we have not danced at least once." Seriously. He said that.
And if Nietzsche would dance, well then, dammit, so too should you. Get off that barstool and spin your date to the sounds of music! After all, you are in the islands, and it is time to celebrate with your entire body!
In Key West, where a celebration of living and fun are a daily ritual, there are many dancing opportunities.
From the Cuban and Latin bars with their salsa music, to the discos with music thumping and people writhing on the dance floors, to the honky-tonk bars with their live music and funky rhythms, Key West has a dance floor for nearly every taste.
Below are a few that we recommend: