An institution for live music and the laid back Key West attitude.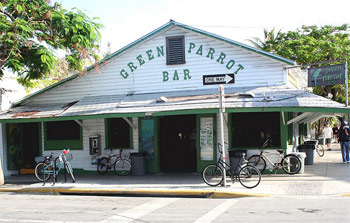 On the corner of Whitehead and Southard St., this drinking house is a real classic that has been serving the working men & women of Key West for over one hundred years.
The Green Parrot bring in some of the finest musicians from all over the country, and there is never a cover charge. If you are looking to see some good, live music in Key West, then this funky bar has to be at the top of your list.
Their motto is "no sniveling" and the friendly bartenders faithfully enforce it. Reasonably priced w/ full bar but beer rules!
Features two pool tables and darts for daytime play and free popcorn.
Location: Corner of Southard Street and Whitehead Street (one block south of Duval Street)
Hours: open every day, 10am – 4am