Famous Key West bar still serves up a good time.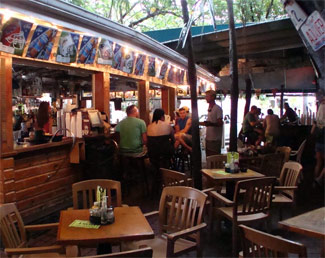 The famous Hog's Breath features three bars, two bathrooms, and one stage. Once the site of The Monster, a famous Key West disco in the 1970's, the Hog's Breath is an open-air bar that serves up cold, strong drinks and live music.
Famous for its slogan: "Hog's breath is better than no breath at all", this laid back bar is located on lower Duval Street and is home to many a hangover in the making.
For those on the Duval Street Crawl (wandering bar to bar), this is a good beginning or end point – being near the foot of Duval Street.
Visit their t-shirt shop in the back to get one of their famous shirts with the Hog's Breath logo – a classic Key West souvenir.
Location: 400 Front Street (another entrance is on Duval Street in the 100 block)
Hours: Open every day, 11am – 11pm.