The original Sloppy Joe's still packs in the crowd at the honkytonk saloon.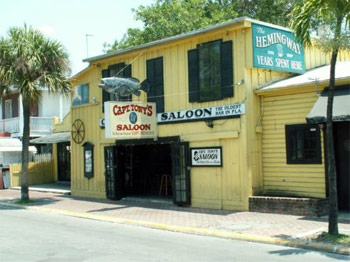 Everyone knows the Ernest Hemingway drank at Sloppy Joe's. But not everyone realizes that Sloppy Joe's was originally located down the street from its present location, from 1933-1937.
The original location for Sloppy Joe's is nearly as beloved of a local institution and is called Captain Tony's – named for a local legend with a huge personality.
This bar is far from fancy, but is an authentic bar with a decidedly Key West feel. Pool tables are available, along with live music by solo musicians.
The large collection of brassieres hanging from the ceilings attests to Captain Tony's famous bawdiness.
Location: 428 Greene Street
Hours: Open every day until 4am.