Old-time bar offering three different experiences.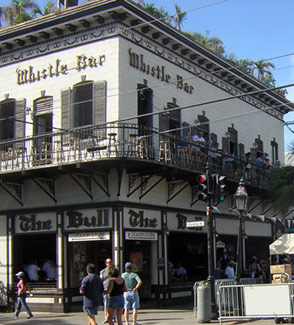 On the corner of Duval Street and Caroline Street, the Bull & Whistle is no-frills bar with a classic feel.
The Bull & Whistle is really like three bars – each with their own unique personality.
In a building overlooking Duval Street this bar would be at home on New Orleans' Bourbon Street, with it's iron balcony and open-air feel. On the side of the building is a large sculpture of a bull with eyes glowing red. Hang out here long enough, and you'll be doing the same.
On the first floor is The Bull – a large space with a big bar, tables and chairs, and a small stage where local musicians perform. The Bull has a carousing feel, and it is easy to pop in and grab a drink.
On the second floor is The Whistle, which features a large bar, pool tables, and a balcony overlooking Duval Street. The balcony offers some of the best people watching and is a popular place to get some fresh air and warm breeze. Though a bit hidden away, The Whistle is a longtime darling of the local party crowd, and its honkytonk feel welcomes anyone.
On the roof is another bar that has made more than a few people blush. Known as the Garden of Eden, this rooftop bar is "clothing optional" – and they mean it. If you go, expect to see lots of skin from all walks of life.
Anyone doing the "Duval Street crawl" – meaning barhopping along Key West's party street – will usually stop in one of these bars.
Location: 224 Duval Street
Hours: Open every day until 4am (or until they decide they've had enough)