Contributing factors include declining participation, a changing sport, sponsors and costs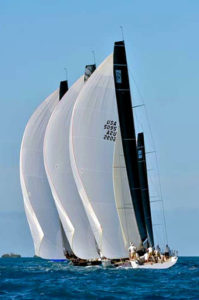 For thirty years, sailboat racing teams from around the world have descended on Key West for a week of highly competitive races. Last year, fourteen countries participated in Key West Race Week. Considered one sailing's ideal locations, especially at that time of year when frozen sailors from the North crave the warmth of the Florida Keys, the races would attract hordes of teams. But over the years, due to changes in the sport and changes in Key West, participation has markedly declined; what once attracted over two-hundred boats, last year saw only 90 boats participate.
The event chairman, John Fisher, was kind to take some time and discuss with Key West Travel Guide the numerous details about the cancellation, the state of the sport, and thoughts of the future.
Participation Dropped
The biggest factor leading to the cancellation of Key West Race Week was the decline in the number of boats participating. Today, there is more competition for participants from other regattas, especially Charleston, SC, Miami, FL, and Block Island, RI. These events are easier to get to than remote Key West – where trailoring a boat down from the North to the Keys is a long, costly, and logistically challenging endeavor. While the Charleston Race Week is only a 3-day event held in April, it has grown to become the largest keelboat regatta in the Western Hemisphere. For 2017, 211 boats signed up for the Charleston races. Another race, The Melges Miami Worlds held in November/December, attracted 85 boats. Historically, Key West had 125 Melges compete but last year saw only 5 boats registered. Block Island Race week, in June, has attracted 150 boats. Many of these boats, in the past, would have headed to Key West. But with major races closer to home, and far less expensive, they have opted to go to these events rather than Key West.
The Sport of Sailboat Racing is Changing
The cost to compete has increased due to the number of professionals considered necessary to remain competitive. Every boat now has at least one "speed-enhancing professional," and the costs associated have become too much burden for many amateur teams. Over time, Key West Race Week had become much more pro-oriented, and no longer a large draw for amateur racers. Another factor in the changing sport is that handicap racing in the United States is fracturing, leading to a lack of consistent rules for those outside the one-design classes. The result is a domination of one fleet, say J70's, while overall participation declines.
Sponsorship
While the major sponsors of Key West Race Week, Mount Gay Rum & Quantum Sails, were still in place and happy, the event relied on many more sponsors and support from the local Tourist Development Council (TDC). While the TDC has been very supportive over the years, giving a large contribution for the event's media and promotion, getting sponsors was a "monumental" task, especially since the organizers need a 3-5 year commitment. Unfortunately, many of these sponsors are in the recreational-marine industry and are still recovering from the Great Recession. These companies are less interested in sponsoring the event with fewer boats participating. Compounding the problem, the professional boats need a 1.5 year horizon of commitment from organizers in order to participate. Without that, this further eroded the number of boats participating.
Expensive Hotel, Marina, and Boat Services
No doubt, Key West is a preferred destination for anyone competing, world wide. Scenic views, good wind, a barrier reef, and great dining and nightlife attract not only sailors, but tourists – especially in winter. As a result, Key West now has the highest hotel occupancy and daily-room rates of anywhere in Florida (more about Key West tourism statistics). This high cost of housing the sailors, crew, and volunteers has made it very difficult to make the numbers add up – especially since in winter, the peak of Key West's "high season", the event can no longer command a discounted room rate. Nearly everyone working Key West Race Week does so as a volunteer – and each of them need a place to sleep. Last year, the budget for housing the 100+ staff members was close to $95,000. Compounding the problem is the fact that nearly all the racers no longer sleep on their boats, as these have become more and more professionally race oriented and stripped of any comfort.
Marina space has also become tight and more expensive. Ideally, most participants would be in a single marina and a camaraderie would develop among the participants. But dockage in tiny Key West is difficult and facilities are scarce. In recent years, the fleet has become more scattered and options more limited as marinas have changed hands or are already at capacity. Race organizers would bring their own "mobile marina" to the event, creating their own docks, but no doubt this was a major project and logistical hurdle.
Securing a crane to put the boats in and out of the water is costly. To guarantee the crane on-site for Race Week, $10,000 was required for the 10 days needed, a significant cost for an event whose budget had now grown to over $500,000.
Future plans?
So what does the future hold? The chairman is keeping his mind open and remains guardedly optimistic, stating "maybe we re-format, scale down," but noting it is hard to plan nine months ahead no knowing how many boats will participate. Mainly, he is listening to what the market says and how do participants respond. "From that, we'll re-visit the event."