Fly from Key West to the Dry Tortugas islands, land on the water, and hop out onto the beach on this amazing trip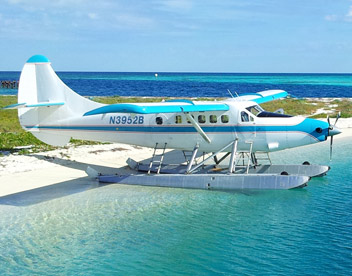 Flying out to Ft. Jefferson and landing right on the azure Gulf waters in a custom-designed seaplane is breathtaking. If your vacation time in the Keys is limited, or if you're an aviation buff, this four or eight-hour experience is perfect for you.
You'll fly out of Key West International airport on one of four daily trips scheduled at 8, 10, 12 noon or 2 p.m. and arrive in 40 minutes. The pilot flies his 10-passenger craft at an altitude that allows you a bird's eye view of the reef and all the treasures it holds. You'll see rays, giant turtles and incredible ship wrecks, including the site of the fabled Atocha, discovered by the legendary Mel Fisher.
After a thrilling ride, you'll land on water and hop out of the plane onto the Dry Tortugas beach beside Fort Jefferson. You'll be provided with complimentary snorkel gear and a cooler of chilled beverages and set free to explore on your own. This gives you a little over 2 hours on the island for half-day trips, and 6.5 hours for full-day trips – an ample amount of time to take a dip, check out the mating grounds of the sooty tern and have your picture taken in the cell once occupied by the controversial Dr. Samuel Mudd.
Bring your own picnic basket and spread out at one of the many tables that dot the spacious grounds. Time does fly on this spectacular trip and you'll be back in Key West drinking up the memories before you know it. This is an experience that you will remember for a lifetime. However, space is extremely limited and advance reservations are an absolute must.
Schedule: Flights depart Key West at 8 am, 10 am, 12 pm, and 2 pm. Total trip time approximately 4 hours or 8 hours.
Cost: round-trip price for your Dry Tortugas seaplane adventure:
Half-Day Trip
Total time: 4 hours
Departs Key West Airport at 8am, 10am, 12pm, and 2pm
Adults $451.00
Children $360.80 (12 & under)
FREE for children under 2 years
$15 fort admission fee is additional.
If you have a National Park card, the fee will be waived at check-in
Full-Day Trip
Total time: 8 hours
Departs Key West Airport at 8am only
Adults $792.00
Children $633.60 (12 & under)
FREE for children under 2 years
$15 fort admission fee is additional.
If you have a National Park card, you will be reimbursed at check-in
For reservations and information: