Ship captain's home and the beginning of Key West's architectural preservation movement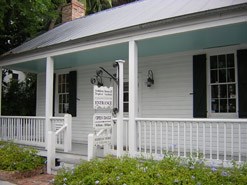 The Audubon House Museum was established in 1960 by Key West native, Colonel Mitchell Wolfson, and his wife Frances. They saved and restored the historic building which had been the family home of Captain John Geiger, Key West's first Harbor pilot. He had made his fortune as a wrecking master salvaging ships that foundered on the treacherous reefs.
This elegant 1846 example of American Classic Revival architecture is a perfect setting for the work of one of America's first truly original artists, John James Audubon, who visited the home while working on his famous bird images. The style of the house and Audubon's art represent the new flowering of American design that flourished in the early 19th century.
A wonderful tropical garden in the back is very enjoyable with collections of orchids, palm trees, and lilly pool.
Self guided audio tours daily. Their gallery of antique lithographs is across the street, and for collectors and admirers or Audubon's work, it is well worth a visit.
Cost:
Adults – $12
Students – $7.50
Children (6-12yrs) – $5
Children (under 6) – FREE
Hours:
9:30 am – 5:00 pm daily.
Location
205 Whitehead Street