Built in 1829 by a ship's captain, this is the oldest standing house in Key West.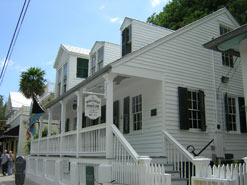 This conch cottage is known as the oldest house on the island and was built in 1829. It was home to the wrecker Captain Francis B. Watlington, his wife Emeline, and their nine daughters.
The property has three buildings, the main house, the kitchen house, and the exhibit pavilion which face a garden with benches.
On display – along with the maritime artifacts – are works of art by Mario Sanchez, Key West's famous folk art wood carver.
Location: 322 Duval Street
Hours: Open daily 10am-4pm, closed Sunday & Wednesday. Museum store is opened 7 days a week from 10am – 4pm.
Cost: $10
Phone: 305-294-9501
For more information, visit their website at oirf.org.