Learn about the wrecking industry during the 19th century, where captains raced to salvage ships run aground on the reef.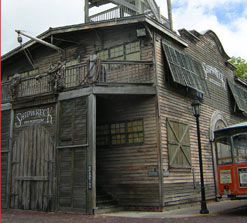 At one point in it's history, Key West was the richest city in the United States of America. Wrecking, or the salvaging of ships run aground on the reef, was big business in the 19th century.
Meet the men who risked their lives and fortunes as you enter the unique world of an 1856 wrecker's warehouse. You'll meet the master wrecker and his crew in a warehouse filled with booty and bounty of the reefs and cargo from the past.
Then climb the lookout towers, originally used by salvors to observe wrecks on the reef, and enjoy a view of the historic district and the waters that surround Key West.
This is a museum that the whole family can enjoy.
Location: 1 Whitehead Street
Hours: Open every day, 9:30 am to 5:00 pm.
Cost:
Adults $16.11
Senior $13.96
Children $9.66
Children 3 & under FREE