Home of the author of For Whom the Bell Tolls, To Have and Have Not, and other famous works.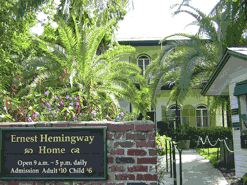 Located at the corner of Whitehead and Olivia St. is the former residence of revered American novelist Ernest Hemingway.
Hidden behind a fortress-like old brick wall is this grand home where he wrote many of his most famous works.
Well versed docents lead regularly scheduled tours through the house filled with priceless mementos and out to the expansive lawn with the writing shack and inhabited by the 6-toed cats reputed to be the direct descendants of the legendary author's kitties.
Hours: Open from 9-5 daily. Open 365 days of the year.
Location: 907 Whitehead Street
Cost: $15 per adult. $6 per child. FREE for children 5 & under.
Phone: 305-294-1575