One of the largest treasure finds in history happened in Key west and is on display, including gold, silver, and emeralds.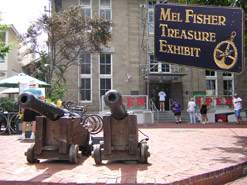 World famous treasure maritime salvor Mel Fisher uncovered the 1622 wreck of the Spanish galleon Atocha in 1985, after an exhausting search which took over 18 years and cost him the life of his son, a professional diver.
The world of shipwreck archaeology is the theme of this awesome museum where you will see the ropes of pure gold and fist-sized emeralds that were recovered. Lift a real gold bar and view a number of artifacts.
They continue to look for more treasure, and repeat Mel's famous saying "Today's the day".
You may never look into the ocean the same way again.
Location: 200 Greene St.
Hours:
Monday thru Friday 8:30am-5:00pm
Saturday & Sunday 9:30am – 5:00pm.
Cost:
Adults – $15.00
Students, must show ID – $14.00
Children, ages 6 – 12 years – $7.00