Learn about the ecosystem of the Florida Keys, including mangroves, coral reef, wildlife, and seagrass beds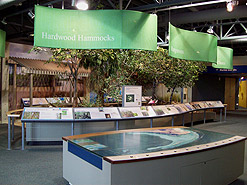 A terrific educational facility with over 6,400 square feet of exhibits, including a 74-seat movie theater.
Highlights of the Center include an interactive map of the Keys, a replica of the Aquarius underwater laboratory, and an underwater video camera that allows guests to observe coral spawning, assess damage from a boat grounding or monitor the health of a coral reef.
The Center also features a high-definition film by renowned cinematographer Bob Talbot, computer interactive exhibits, murals, graphic displays with text and images, a live weather station and replicas of South Florida habitats such as mangroves, complete with sounds.
Mote Marine Laboratory's Baby Conch Farm has moved to the Eco-Discovery Center and is now part of its Living Reef exhibit.
The Center, located in Truman Annex, is open 9:00 a.m. to 4:00 p.m., Tuesday through Saturday and is free to the public.
And they have free on-site parking!
This is a fun thing to do in Key West for the whole family.
Hours: Open Tuesday through Saturday, 9 am – 4 pm (closed Sunday and Monday)
Cost: FREE
Phone: 305-809-4751
Location: 35 E. Quay Road at the Truman Waterfront – located at the end of Southard Street.