Climb to the top of the 15th oldest lighthouse in the United States and get an incredible view of the island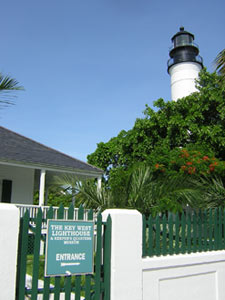 Built in 1847 to 46 feet high, the Key West lighthouse was later extended to 85 feet in 1894 . This Key West icon originally ran on oil, but in 1927 was converted into an "electric torch" beacon.
By 1969, the lighthouse was decommissioned and after changing hands with the local historical society, opened to the public in 1989.
Today you can climb the 88 steps to the observation deck for one of the best views of the island and the beautiful water surrounding it. We highly recommend it.
The museum is an excellent historical site with many artifacts of the era and stories of the keepers that lived there. The quarters, grounds, and the lighthouse itself have all been faithfully restored.
Hours: Open daily 9:30 am – 4:30 pm (except Christmas)
Cost:
$12 per adult
$9 per senior, ages 62 and over
$5 per student, must show ID
$5 per child ages 6 and over
FREE for children under 6.
Phone: 305-295-6616
Location: 938 Whitehead Street