The working vacation White House of President Truman who visited the house eleven times while in office.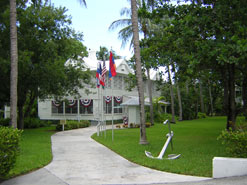 President Harry Truman found this tropical island the perfect winter getaway.
He chose this West Indian style dwelling to be his working winter "White House" for his vacations from 1946-1952.
Truman loved being outdoors in Key West. In the morning he would often go to the beach. He was an avid fisherman and whenever he could he loved to fish the Key West waters.
Situated on the former Navy property today known as Truman Annex, with entrance through the Presidential Gates on Whitehead St., it has been restored with complete authenticity.
Guided tours daily. Also offers a free self-guided botanical tour.
Hours: Open 10am – 4:00pm , daily
Location: 111 Front Street, in the Truman Annex neighborhood
Cost:
Adults – $22.52
Children, ages 4-12 – $10.75
Seniors, must show ID – $20.37
Student & Military, must show ID – $20.37