One of Key West's most impressive structures, the Custom House was where wrecking cases were adjudicated by a Federal magistrate.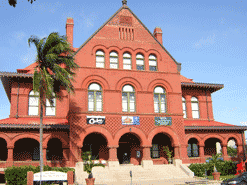 Built in 1891, this magnificent red brick building, known locally as the Custom House, is a 3 ½ story Romanesque style landmark which first served as the city's Federal Building during the wrecking era. The waterfront building's bright red roof is iconic and easily spotted from a distance, especially by boaters.
We highly recommend a visit here.
The recently completed $9 million restoration transformed it into a first class museum called the Key West Art & Historical Museum, and contains excellent fine-art and history exhibits. Current exhibitions include Ernest Hemingway, folk artist Mario Sanchez, and railroad-builder Henry Flagler.
Hours: Open daily 9:30 am – 4:30 pm. (except Christmas)
Cost: $7 per adult, $6 per senior, $5 per child, and FREE for children under 6.
Phone: 305-295-6616
Location: 281 Front Street