Train station for the Overseas Railroad, built by Henry Flagler and called the 8th wonder of the world.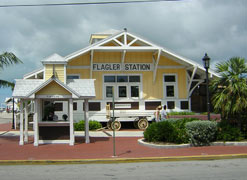 In 1905 Henry Flagler, one of the wealthiest men in the world, announced his plan to build a railway from Miami to Key West. Some laughed, some scoffed, and most agreed that it could not be done.
Eight years, three hurricanes, thirty million dollars, and hundreds of lives lost, Flagler proved them wrong.
Visit the museum and experience the thrill of riding down the Florida Keys in 1929 aboard the "railway that went to the sea". Learn about the Key West Extension, and the tragic demise of Flagler's dream in the devestating Labor Day hurricane of 1935.
Plan to spend at least 30 minutes to see all the exhibits.
Location: Corner of Caroline Street and Margaret Street.
Hours: Open every day, 9:30 am – 3:30 pm
Cost: $10.75 per adult, $5.38 per child (FREE if you have a ticket stub from the Conch Tour Train or the Old Town Trolley)